Why You Might Stay Silent
August 21, 2017
So this could be about a lot of things. It could be about mental health like depression, anxiety, etc. It could be about something that happened in your past. Or it could be about infertility, miscarriages, even an abortion… The decision to share our personal stories… especially the hard stuff… is a deeply personal decision. Whether it's shame or fear or just too hard or upsetting to openly talk about – it's okay to keep certain parts of yourself for yourself alone.
I know there are a lot of people who don't understand why someone would choose to stay silent (or only share wtih a very select few) about their struggle with infertility or their miscarriage. And I want to try and shed some light on this with my own experience.
Initially we didn't share about our struggle (personally or publicly) because I don't think we really wanted to "deal with it." When you start sharing, people immediately have questions and we weren't prepared to answer them. Part of that was because we hadn't pursued medical intervention at the time – honestly because we couldnt' afford it. So we didn't really have any answers to the questions we knew people would ask.
But once we did start sharing, the issue becomes now you're not just trying to find answers for yourself but for everyone else who keeps asking you questions as well. It can be hard enough trying to figure out what's wrong without having to then answer to your family and friends. And then too you're having to walk through those answers and experiences again and again with each new person who asks and wants to know. And that re-experiencing can be emotionally exhausting and super hard too.
Then, of course, as we've talked about before, comes all the insensitivities… the things that people are going to say to you. You're going to have the people who will minimize your experience. They brush it aside or tell you about someone "who has it much worse." You'll have the people who will have "the answer" to your problem. And I say "the answer" because honestly most of the time they don't know the whole story, they aren't medical professionals, and (in my experience) most of the time they don't have any personal experience with infertility. And then there's the really insensitive people… the ones who actually will say hurtful things. I'm not going to go into that here but you can check out a slew of those comments on my previous post here.
But I want to take a second and specifically talk about miscarriages. Statistics show that anywhere from 10-25% of pregnancies end in miscarriage. That's a pretty big number. But what's crazier is that those are just the medically recorded miscarriages. Experts believe that it's probably closer to 50% of pregnancies that end in miscarriage when you add in those that go unnoticed because of how early they occur or that are never reported to medical professionals. So if so many occur, why don't more people speak up? Of course, there can be a lot of reasons. Everyone has their own specific reasons or experience and I'm not qualified to speak for everyone, but I can speak only to my own experience.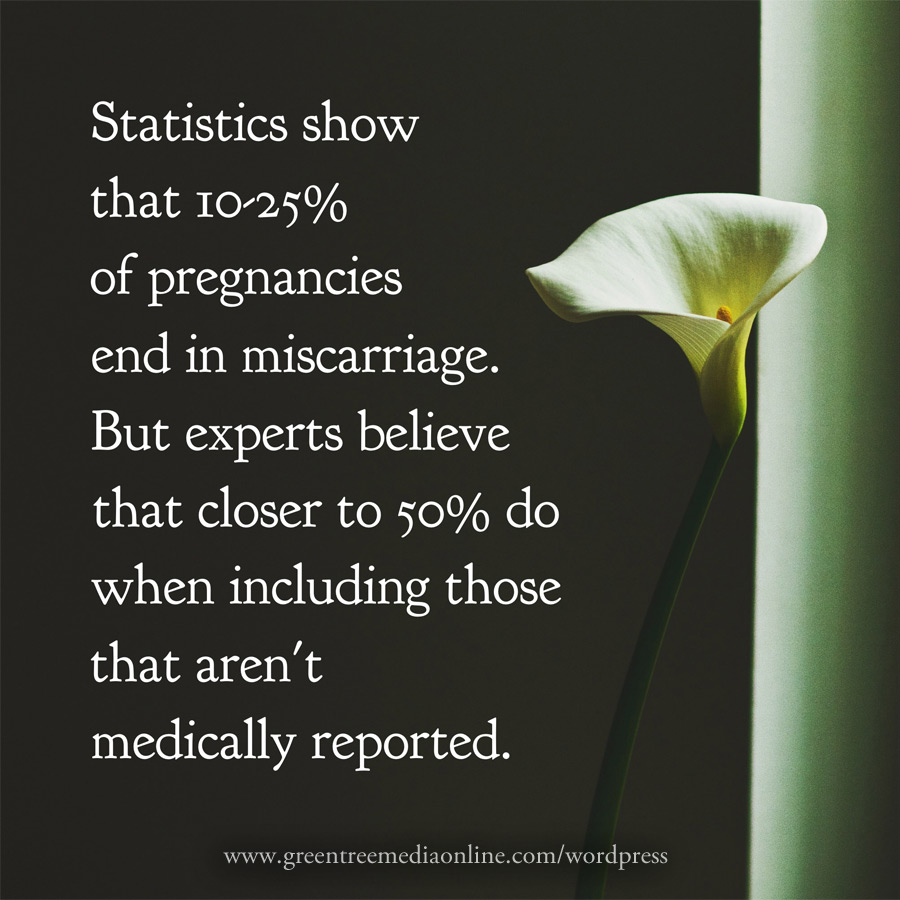 I had been sharing our story very publicly for a number of years by the time we had our first and only miscarriage. So why didn't I share? The truth is – I can't prove I was pregnant. My miscarriage happened before I could take a pregnancy test. But I know it happened. (In fact, I had just had my SIS procedure and the doctor informed us that if we were going to conceive naturally this would be the time it might happen.) This was different than anything I had experienced and what I saw come out of me was proof enough for me that we had experienced a loss. That is our truth and it was a very difficult personal experience we didn't really want to discuss for a lot of reasons.
First, as someone who has been publicly open about our journey I had already experienced a myriad of upsetting and hurtful things from those close to us and from strangers along our road with infertility. I was genuinely emotionally not prepared to hear anything hurtful (unintentional or otherwise) about our loss. I also knew there would be people who would question our miscarriage since I couldn't prove it. You might think that's ridiculous but I can assure you – this would happen just the same way it happened with people questioning our infertility. And a part of me would have felt guilty for openly declaring our loss without said proof (just as there is a part of me that worries about calling Marlee our rainbow baby) because I didn't want anyone to minimize our heartache over our very real loss.
Then there is also the frustration of all those who constantly say, "Oh now that you've adopted you'll absolutely get pregnant! That happens all the time!" I get so frustrated by this for several reasons but mostly because it's absolutely false. Sure – we all know someone that this has happened to, but that doesn't mean it happens all the time. Fact – less than 8% of couples become pregnant after adoption and honestly that's a pretty small statistic. For what it's worth – I'd be willing to wager those people didn't have the odds stacked against them like we do. The odds of us conceiving naturally are VERY small. Let's add to this that it belittles the love I have for my daughter. She is not a consolation prize or a means to an end. The quick and easy response I've had to this statement has always been, "well that's medically not possible." If I had admitted to the miscarriage – it would not be so simple to use this as my response.
And the last big reason is very personal to our experience. See, I had been sharing for a while at this point and I had begun to realize how many people were watching and listening to our story. People looking for community, for guidance, for hope. Because I've been pretty clear about how much of our story is and was God-led. I was afraid that if shared with you that we had been granted a miracle. The miracle we had been asking for. And if I then told that miracle was almost immediately taken from us – you might lose faith. You might lose hope. I was afraid you wouldn't see the God I know and love because you'd be focused on the pain and hurt and loss.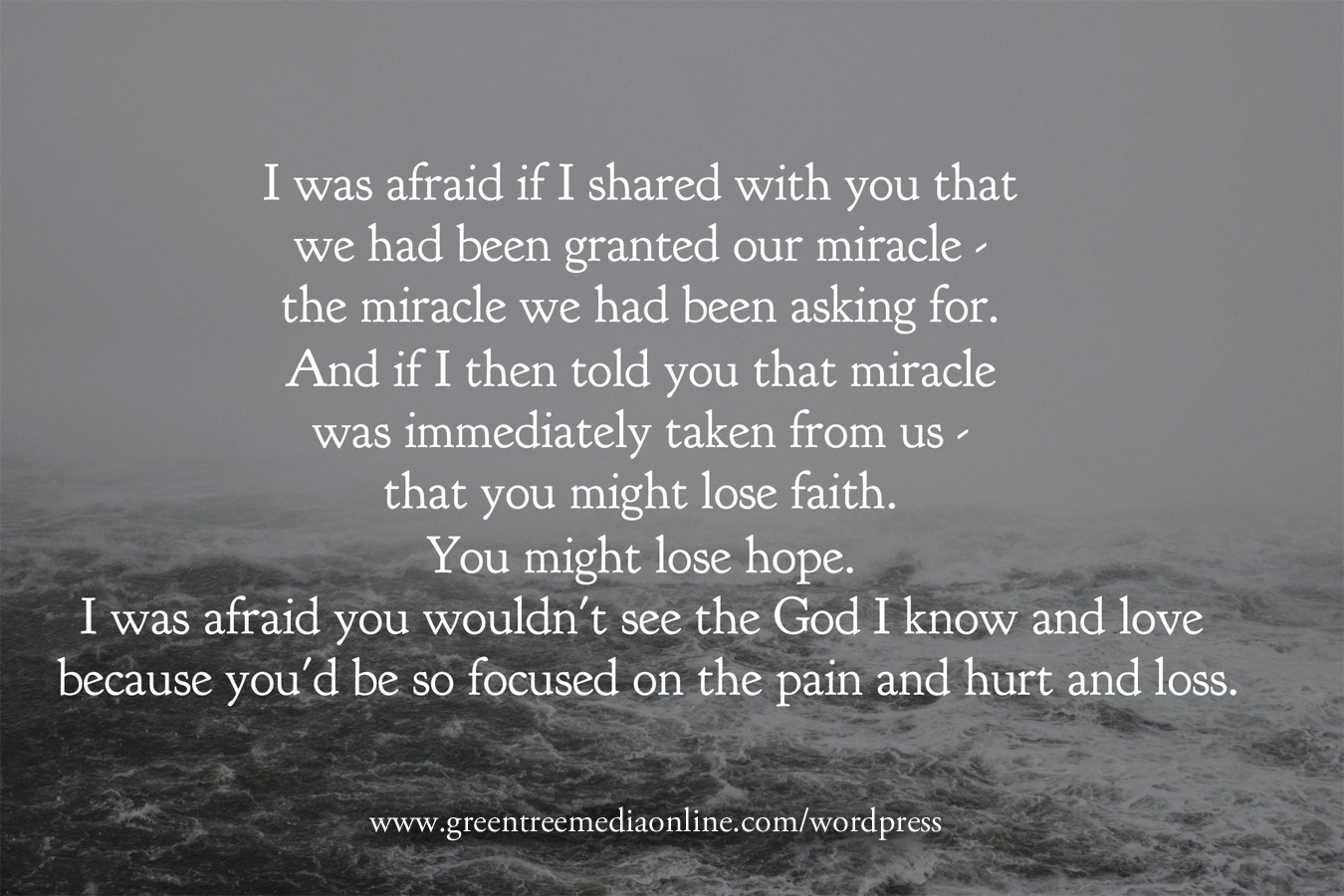 And while that may be true – that may be what you see. I also know it wasn't fair for me to assume that either. And what I hope is that you can see how our story was meant to unfold. I hope you can see that God was and is so good. Yes – our hearts hurt for the baby we lost. I think of that little one often. I wonder if it would have been a boy or a girl. I think of how he/she would have been two years old this October. And I wonder who that baby would be. It's a pain that will never go away. All miscarriages are. And every parent has the right to mourn that loss in their own way.
If you are one of the silent… or if you're not… Your loss is real. That little life was real. It's okay for you to keep this pain to yourself and it's okay to hurt. I want you to know you are not alone and that there are so many couples who have been where you are. Embrace your truth and your story and find others who you can lean on as you move through these hard times.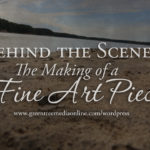 Previous post Behind the Scenes: The Making of a Fine Art Piece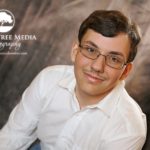 Next post Wade M. Senior Photography | LSA Decatur