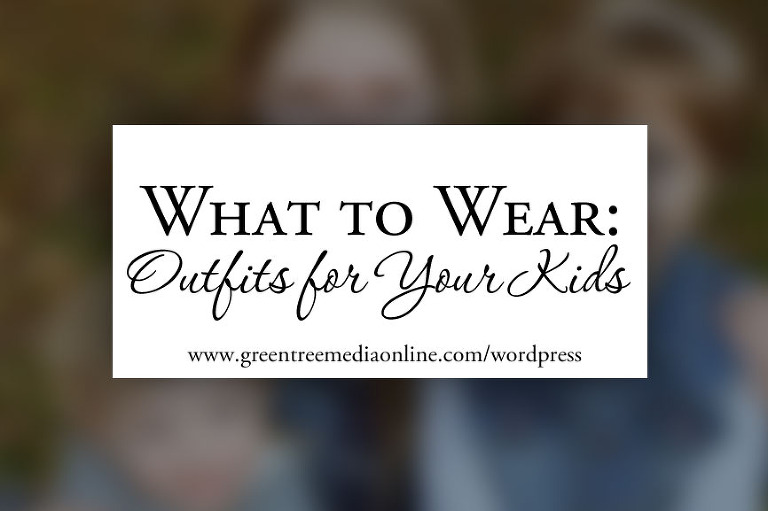 Now its time to focus on just those kiddos. You have a system for what to dress them in for every day play, but figuring out what to wear for photos can be tricky. You want to create really beautiful images of your kids that capture their personality and you want them to look like themselves too. So here's just a few tips on how to choose outfits for your favorite little humans.
Coordinate but don't be matchy
Anyone who has come to me for their portraits knows that I always encourage avoiding being matchy. Family portraits, even when it's just your kids, tend to look best when you coordinate but don't blend. That means putting people in outfits that look like they belong together – sharing a similar color palette, but avoiding wearing the exact same outfit (white polos and jeans). As you know I suggest choosing 3 or 4 colors and using that to build your outfit. This can be especially easy if you have a little girl. Choose an outfit for her full of colors and then pull those for your boys' outfits.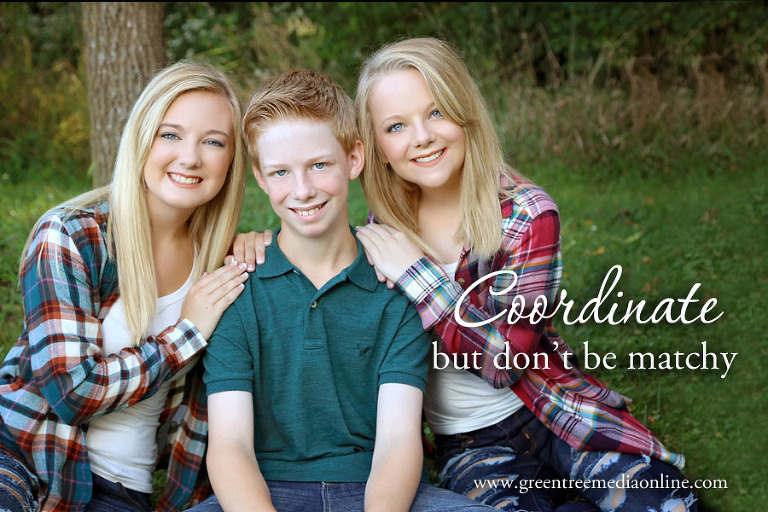 Accessorize – add interest with a pop of color
Even kids outfits can have fun accessories. It doesn't need to be much – a bow tie or some fun shoes or a big bow in her hair. These accessories can also be the perfect way to add a pop of color to your kiddos outfits. Don't let the accessories overpower though. Use them to help express your child's personality and enhance the image.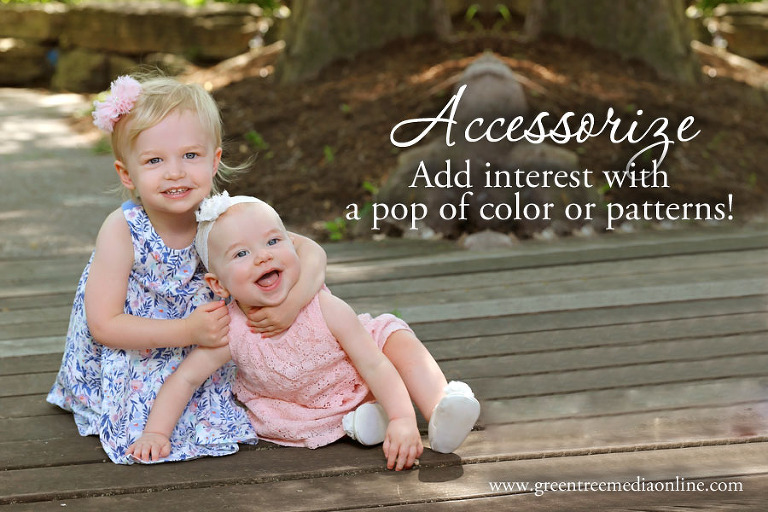 Layers and textures – add detail and depth
Having different layers and textures can help add interest to your images. Put your littles in sweaters or cardigans, fun scrappy scarves, or ruffles and lace. Again – don't let it overpower but rather add subtle interest. These additional pieces can help create variety in your session and images too.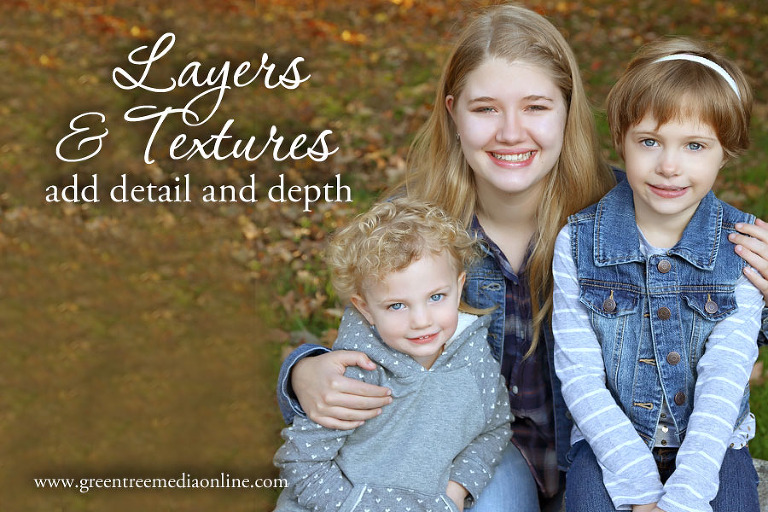 Subtle Props – enhance and add meaning
Think about things to include to add meaning. A special blanket, some flowers from the garden, a favorite red wagon or toy. These things can add greater significance to your images for years to come. They can also provide additional interest, express your child's personality and give them something fun to interact with that will make your images even more personable.
Shoes Matter
Now don't forget what you put on their feet! Sometimes shoes can be a forgotten piece of the puzzle and they can make all the difference in the world. A pair of broken in boots or cute ballet flats can make or break an outfit and give it that finishing touch. And if all else fails… going bare foot is often pretty cute too!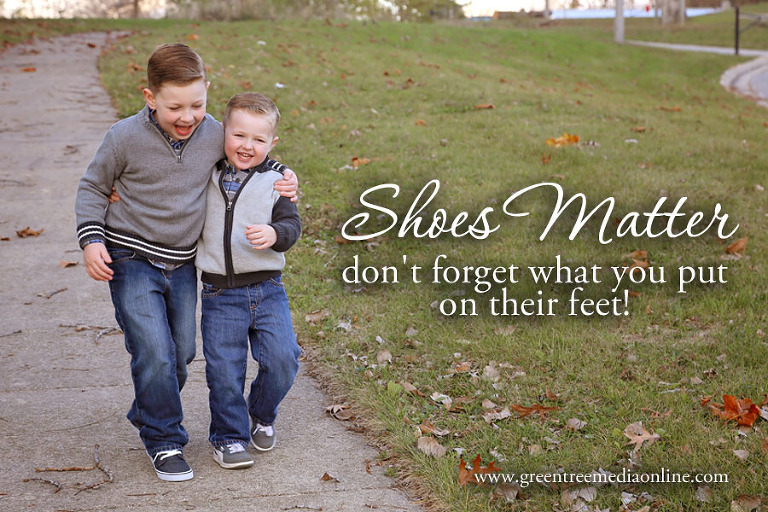 Comfort Over Fashion
Of course… one of the most important things to remember is to make sure your kiddos are comfortable. Put your kid in a scratchy tutu or itchy pair of pants and we'll all be miserable. Your kid will be fussing and unhappy and we'll struggle to get those images you crave. There are tons of cute options out there that still ensure your child is comfortable so making that a priority is definitely crucial!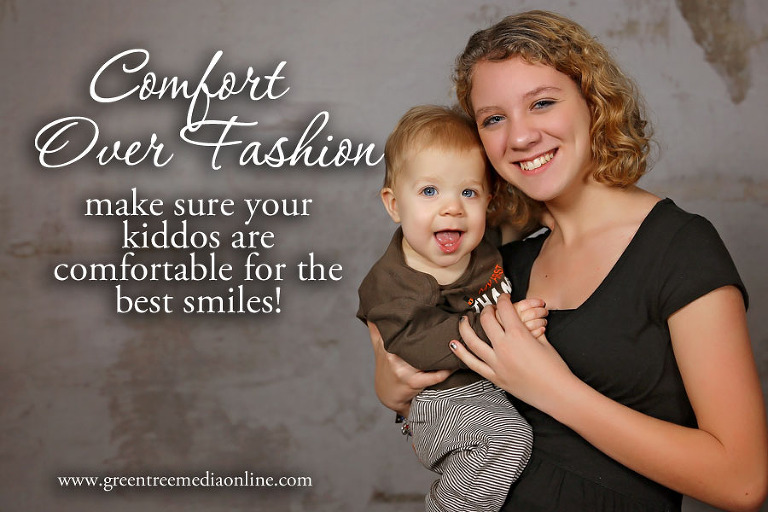 And lastly… just a few things to avoid…
Don't
– wear anything with prominent logos, graphics, characters, etc
– cut hair on short notice, give it at least a week to grow out
– wear all the same color (no matching polos please)
– wear looks that will be outdated quickly
I hope you found these tips and suggestions helpful for planning what your kiddos are going to wear for your upcoming photo shoot. If you're ready to book a session to document this fleeting time – I'd love to work with you! Just shoot me a message and we'll get you all set up!