Something that I have a tendency to do is dress our little family to match. It kind of started as just a thing we did for special ocassions and pictures for me and Ryan. But once Marlee entered the picture – all bets were off. I find myself frequently trying to dress to match her. And yes – my mother is thrilled that I have more colors in my wardrobe now because of it. (Although having a wardrobe in shades of green, brown, yellow and cream was brilliant for outfit combinations since everything went together.) It occurred to me that since people comment on this all the time and often ask about outfits for family photos – maybe I should start sharing our outfits with you guys from time to time to give you ideas of how we dress to match 🙂
This was the first outfit combo we wore together. I had found this cute dress from Kohl's that went perfectly with this precious pink dress we found for Marlee. My dress had blues and purples in it, so Ryan wore a light denim shirt to match. And voila!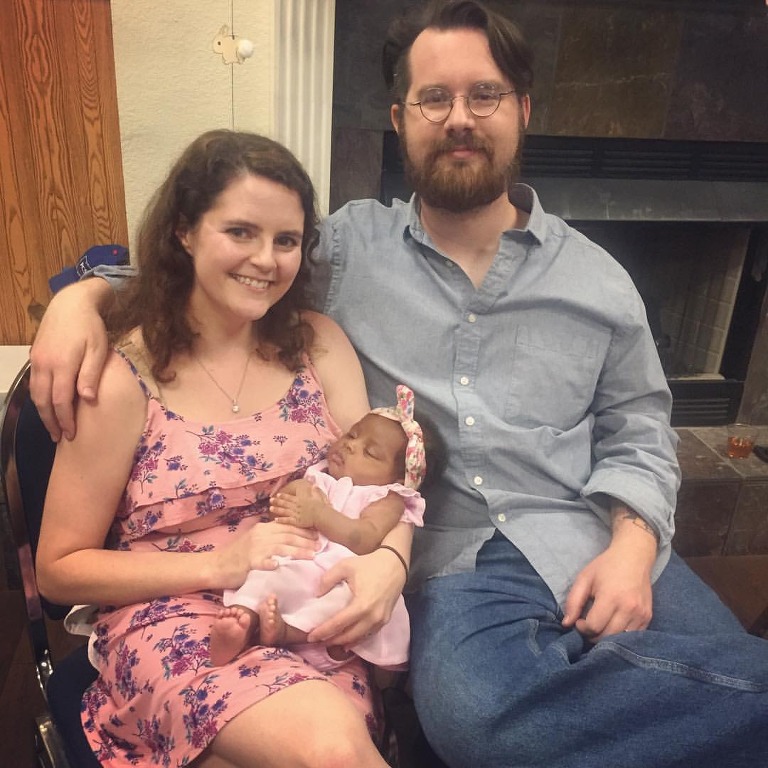 This is more often how we dress to match. We found this precious dress for Marlee that was yellow cream and grey. She looks so good in yellow! So to match her I wore some yellow capri pants with a cream top and Ryan wore a grey checked shirt! Easy peasy!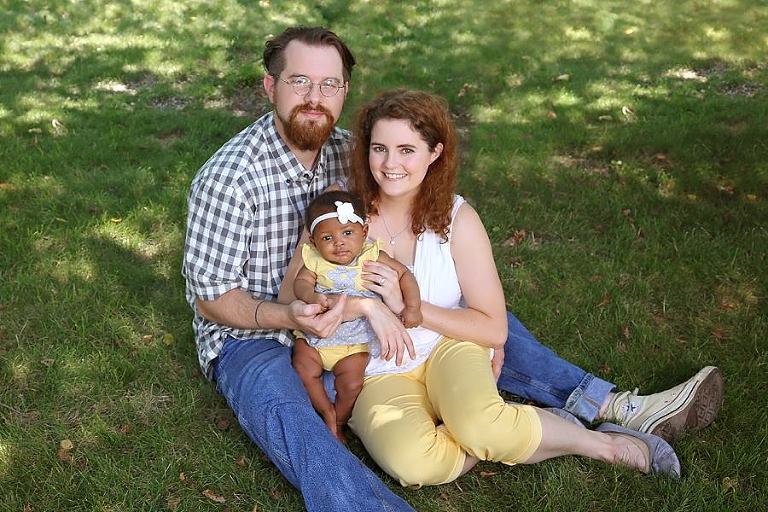 For our photo shoot later in the year, I was torn on what Marlee should wear. I loved her little yellow polka dot onesie and green plaid shirt but I also loved her grey sweater with flower print undershirt. So we did a little of both. Ryan and I wore green and brown to match her green plaid shirt outfit. And we wore blue and pink to match her grey sweatshirt outfit.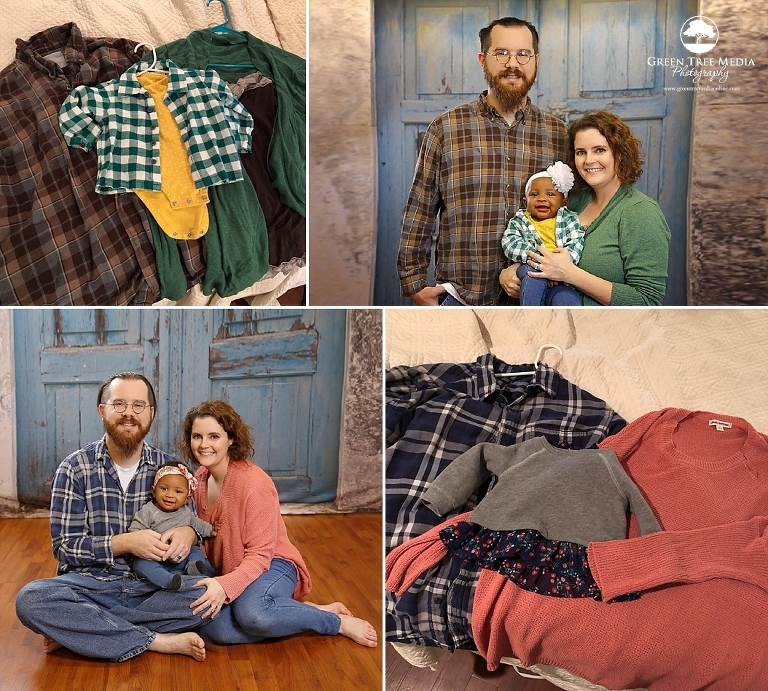 For a wedding we attended together, we actually started with my dress. I had been wanting to wear this blue and pink print dress for a while. It was easy to dress Ryan to match – a royal blue button down shirt was perfect. I was torn between a couple of dresses for Marlee – one that was a pink floral print and this white watercolor flower dress. I ended up choosing this one because it allowed her to really pop off of us! The pink floral print was too busy and she blended in. So to tie us all together – Ryan wore a pink tie.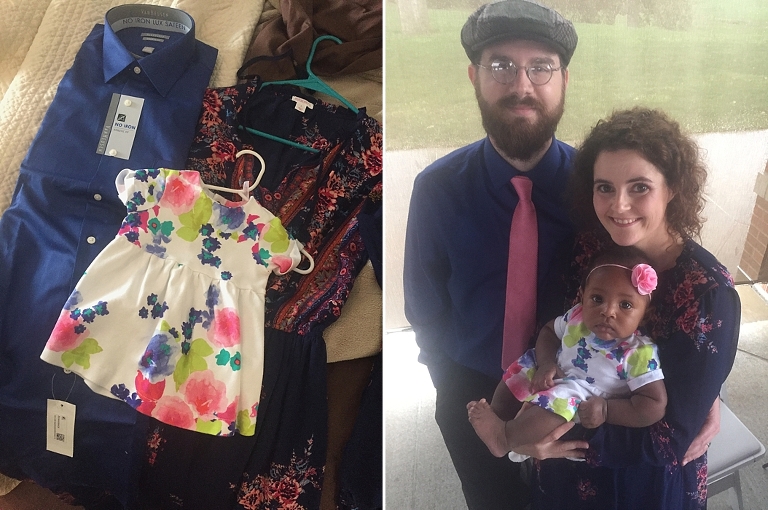 For Christmas we did the pop again. Ryan and I wore shades of grey so that she could really shine in her red, white, and gold dress. Honestly – we don't have much red in our wardrobe so wearing neutrals was the easy option based on what we already had. But it also worked perfectly to let her steal the show 😉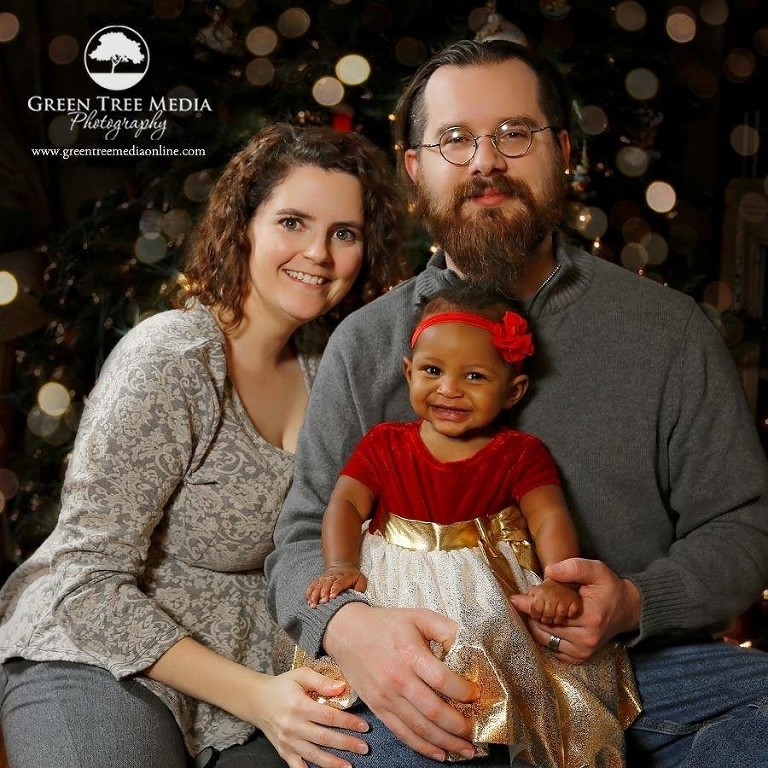 For her one year portraits we had this cute overall outfit we had got for her so we went through our closets for somethign that would match. Ryan again wore his light denim button down and I wore a pale pink top.  This allowed our two tops to tie together her whole outfit.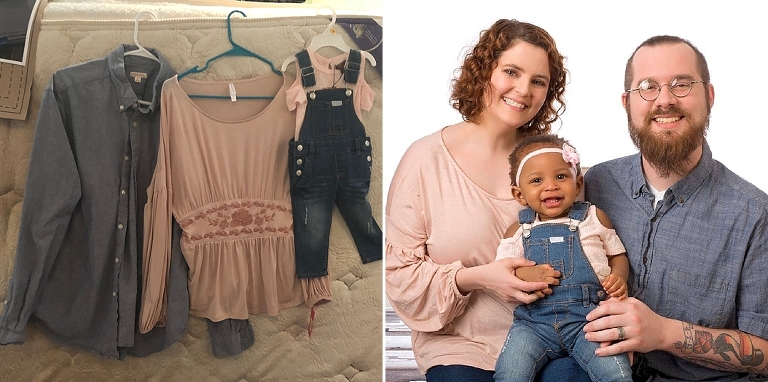 Yup – I even sometimes do this on casual days…Marlee loves My Little Ponies. So when she wears a MLP top – we sometimes join her. Ryan rocks his Fluttershy and Discord shirt and I wear my Fluttershy heart shirt. The colors may not match, but the characters sure do.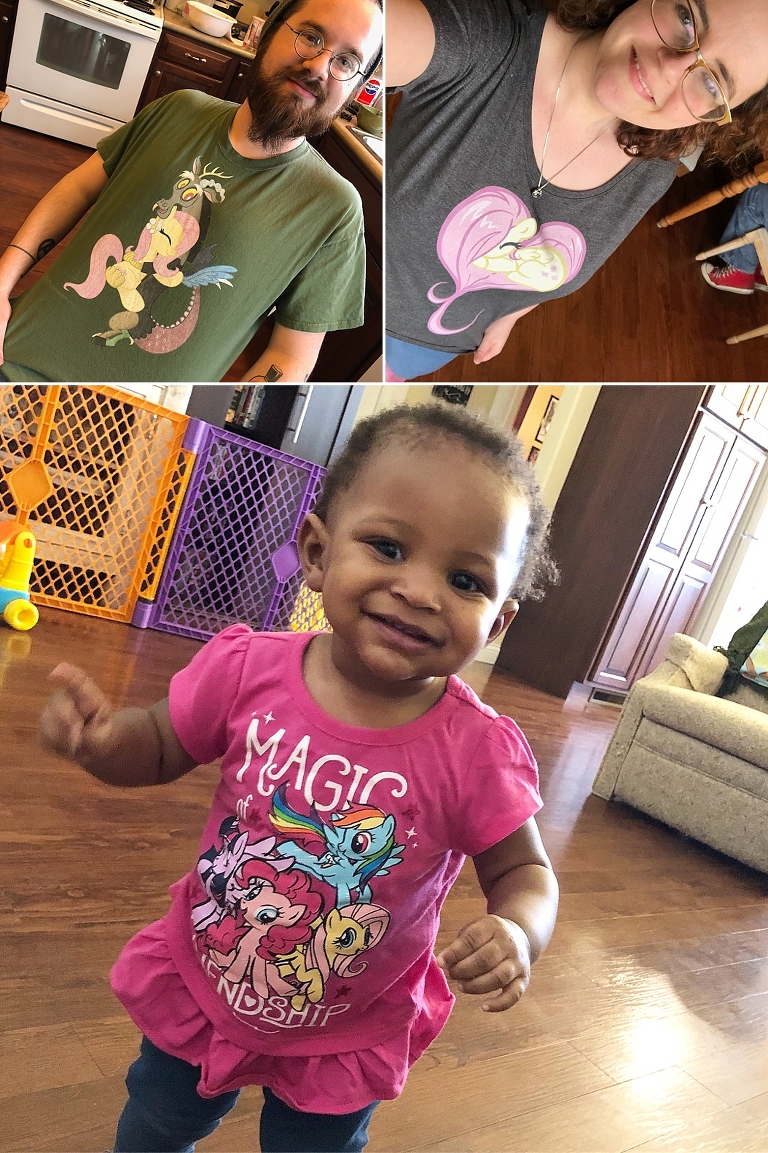 This was one of those situations where I bought myself a dress and then found stuff that allowed the other two to match me. I do still love finding gellow outfits for Marlee because she looks so good in it. We have several yellow tops and dresses so we let her decide which one. (She loves choosing her clothes.) And then Ryan wanted to join in so he wore a blue/grey check top that matched Marlee's outfit.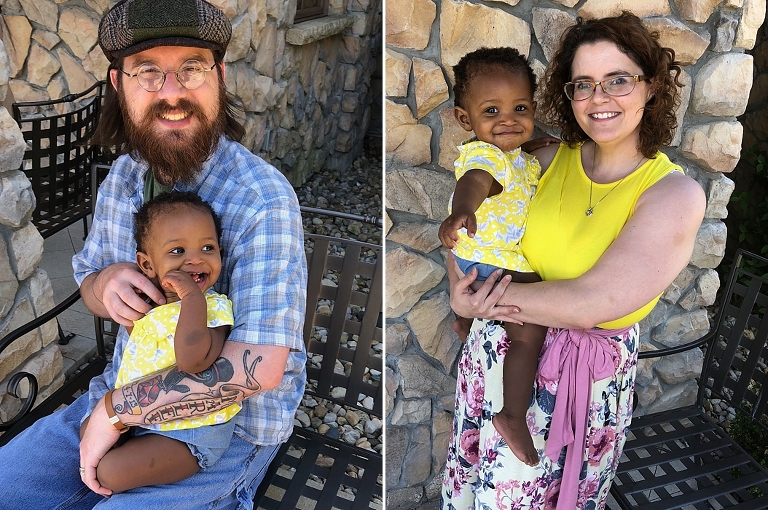 This one is to give you an idea of the ideas I run through when selecting outfits for photos. So for Marlee's 6 month session last fall I knew I wanted her to wear that cute yellow and grey outfit. So I knew Ryan and I would need to be wearing yellow, grey or white. We started with Ryan in a grey zip sweater because I knew that would be easy. My outfit was the struggle this time haha. I had decided a white top was probably my best option, but then I had to decide between a yellow or grey skirt. I debated a floral print or a plaid. But I realized that was too busy and distracted from Marlee. So the final picture in the top is what we opted for – I just had to order the grey version of that skirt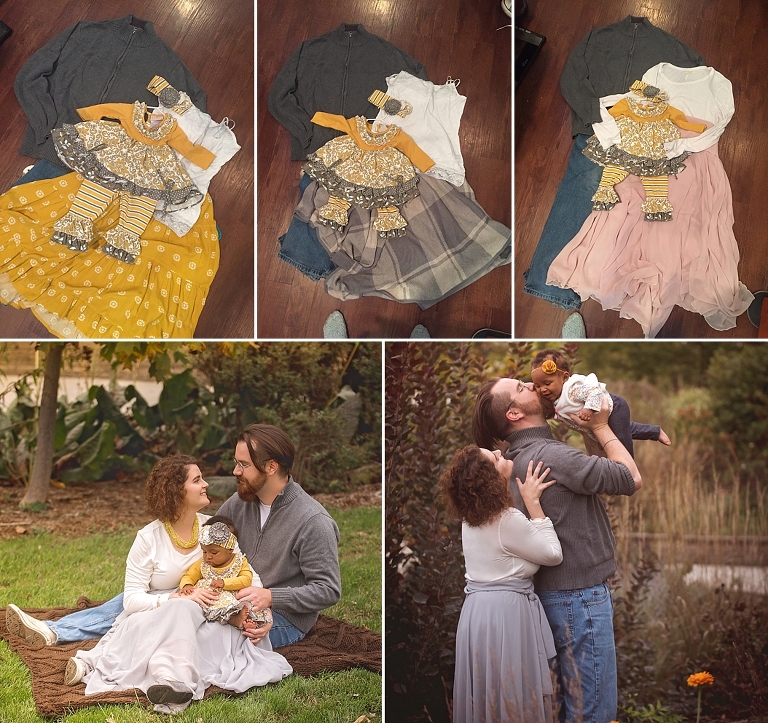 For family photos with my family, my mom chose shades of burgundy, yellow, brown, and green. We had this other cute outfit for Marlee so I found clothes in our closet to match. A gold dress I had worn for a wedding earlier in the ear and a green long sleeve shirt for Ryan. My dress is what tied us all together this time. I also wanted you to see a dressed down option for this. So the last picture is what we wore for Thanksgiving. Marlee in her burgundy outfit, Ryan in a grey sweater, and I found a burgundy sweater top to match.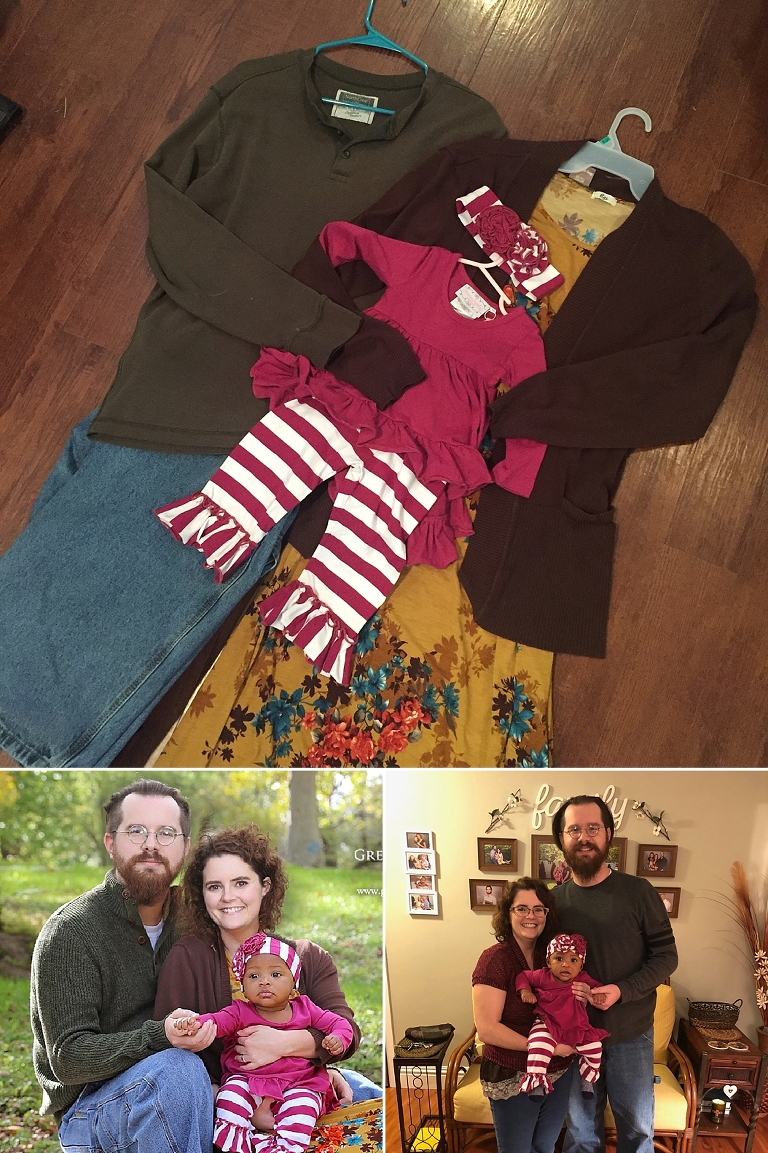 This was another option where I found a dress I loved and everyone else dressed to match me. My dress had yellow, white, blue and pink. So Marlee wore a blue, white and yellow dress and Ryan wore a different light blue denim shirt.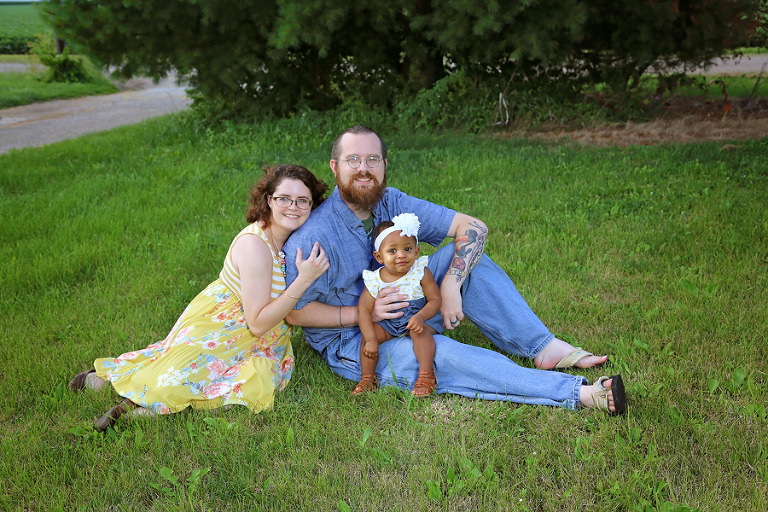 This time we dressed to match Marlee. She had this cute white, blue and pink romper. So Ryan wore blue and I wore pink. Simple as that.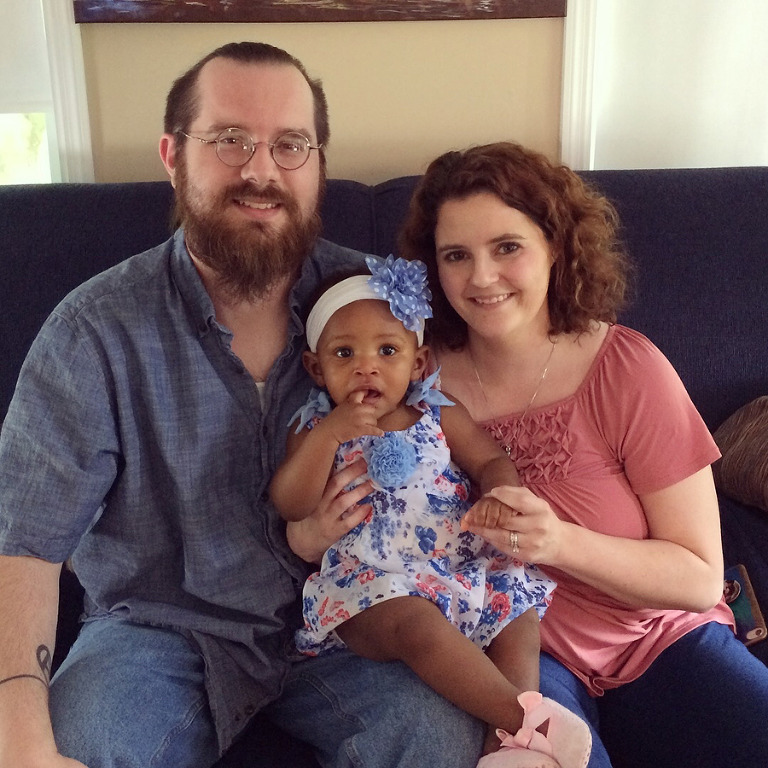 Marlee picked out her Easter dress while she was shopping with Daddy one day. We decided to build a palette of pink, grey and white. I wore a white shirt with a grey sweater and blush pink skirt. Ryan wore a white dress shirt with a grey vest and pink tie. And Marlee wore her pink dress with a white sweater and tights.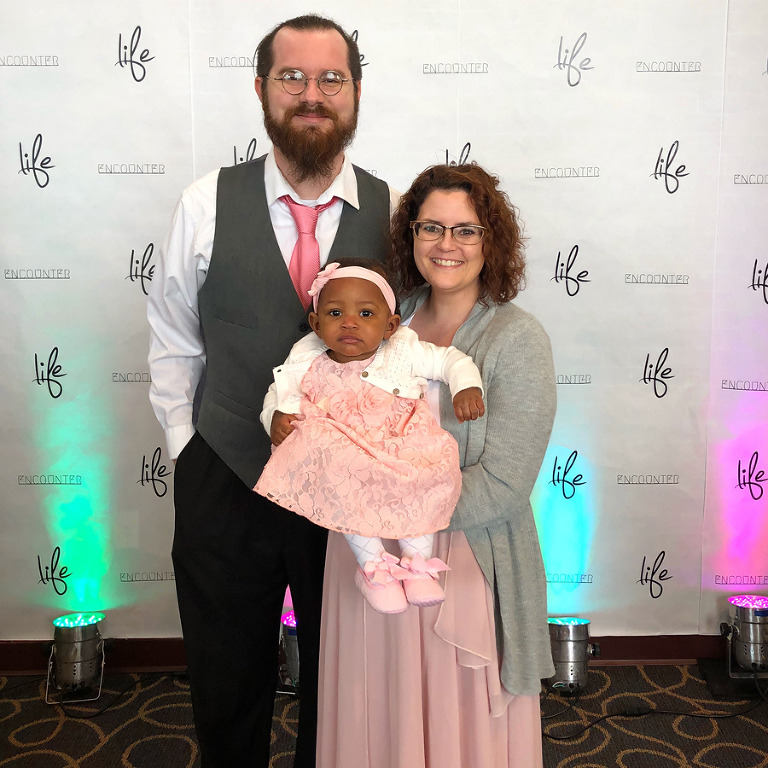 So there ya go! A little peek into some simple ways I dress us to match each week. I hope you guys liked this! Let me know if you're interested in seeing more ways we dress to match in the future!