What to Wear: Summer Family Outfits
July 1, 2015
There is some small art and science to creating the best family portraits possible. And your outfit choices can have a huge impact on the feel and cohesiveness of your portraits. So for today's What to Wear Wednesday – I figured I'd take a break from the girl senior outfit options and show you some fun family outfits.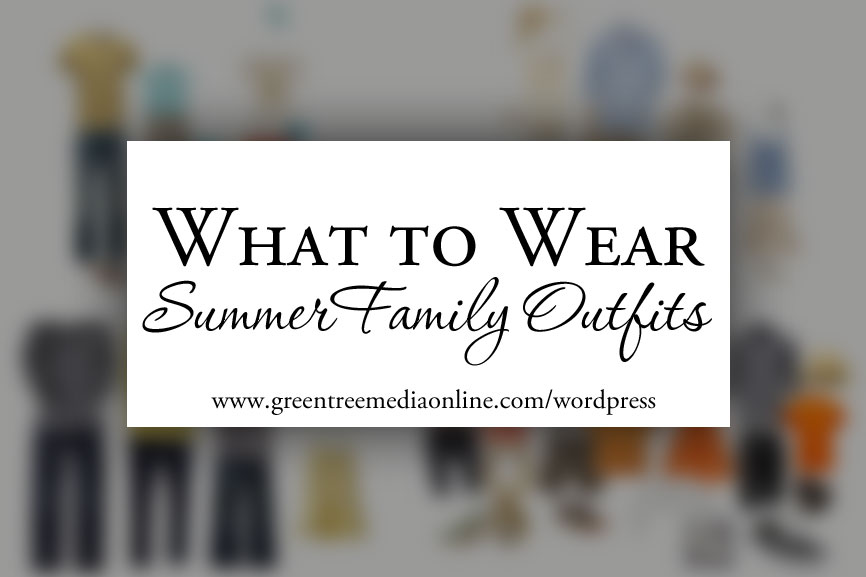 Now I'd be remiss not to tell you that hiring a professional for your family portraits will make a huge difference in the quality and service you receive. All of my clients get a complimentary consultation before their session where we work out all the details of their session and help plan everything from the day and location to the outfits they'll wear and the products you want. My goal is to make the process as stress free as possible and to ensure that at the end of the day – you have beautiful artwork of the ones you love in your home!
But the first bit of advice I always give my clients is to pick a color palette. I always start by asking if we're creating a wall art display in your home – where is that going to go and what colors are in that room? My home contains shades of green, yellow, brown and cream. So for our family portraits – those are the colors we usually wear. This is great even for big family portraits. Pick your 3 or 4 color options, tell the whole family and when you get together for that family portrait session – you'll all match with your individual families and the big group as well. Just be sure you pick colors that are in style right now – otherwise it can be hard to make sure everyone matches.
So let's dig into some family outfit options!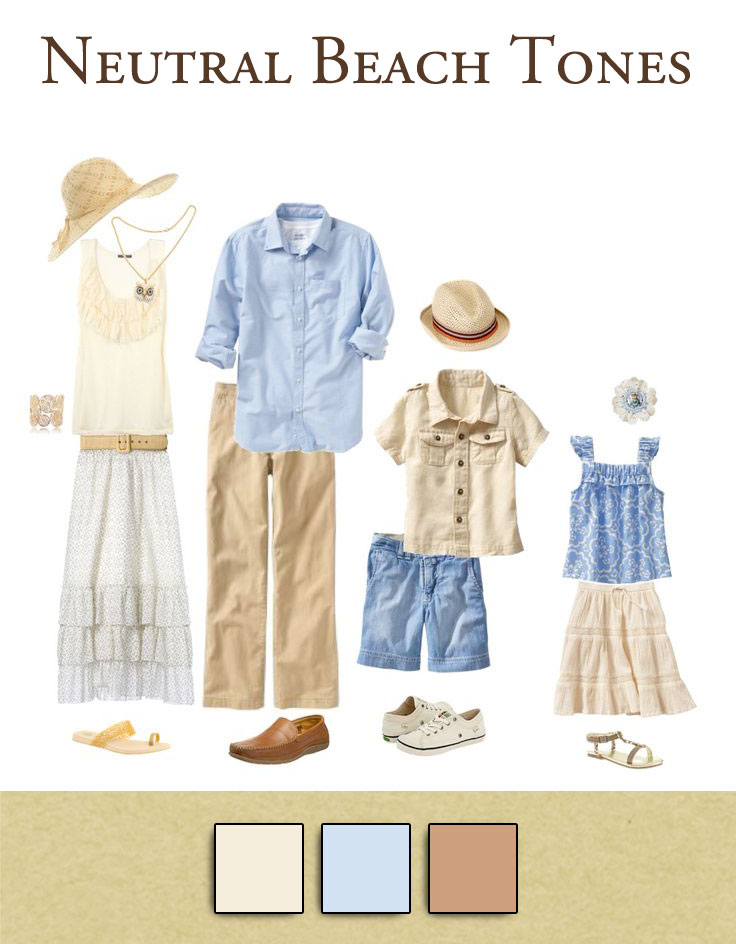 Neutral Beach Tones
This is a great color combination if you're headed down to the beach for your family portrait session. The natural blues and creams found on the beaches are perfectly complimented with these colors. Wearing outfits that match your scenery is a great way to create really beautiful, soft dreamy looks on the beach. Plus it will really draw attention to your family's gorgeous faces since everything else will be similar in tone and texture.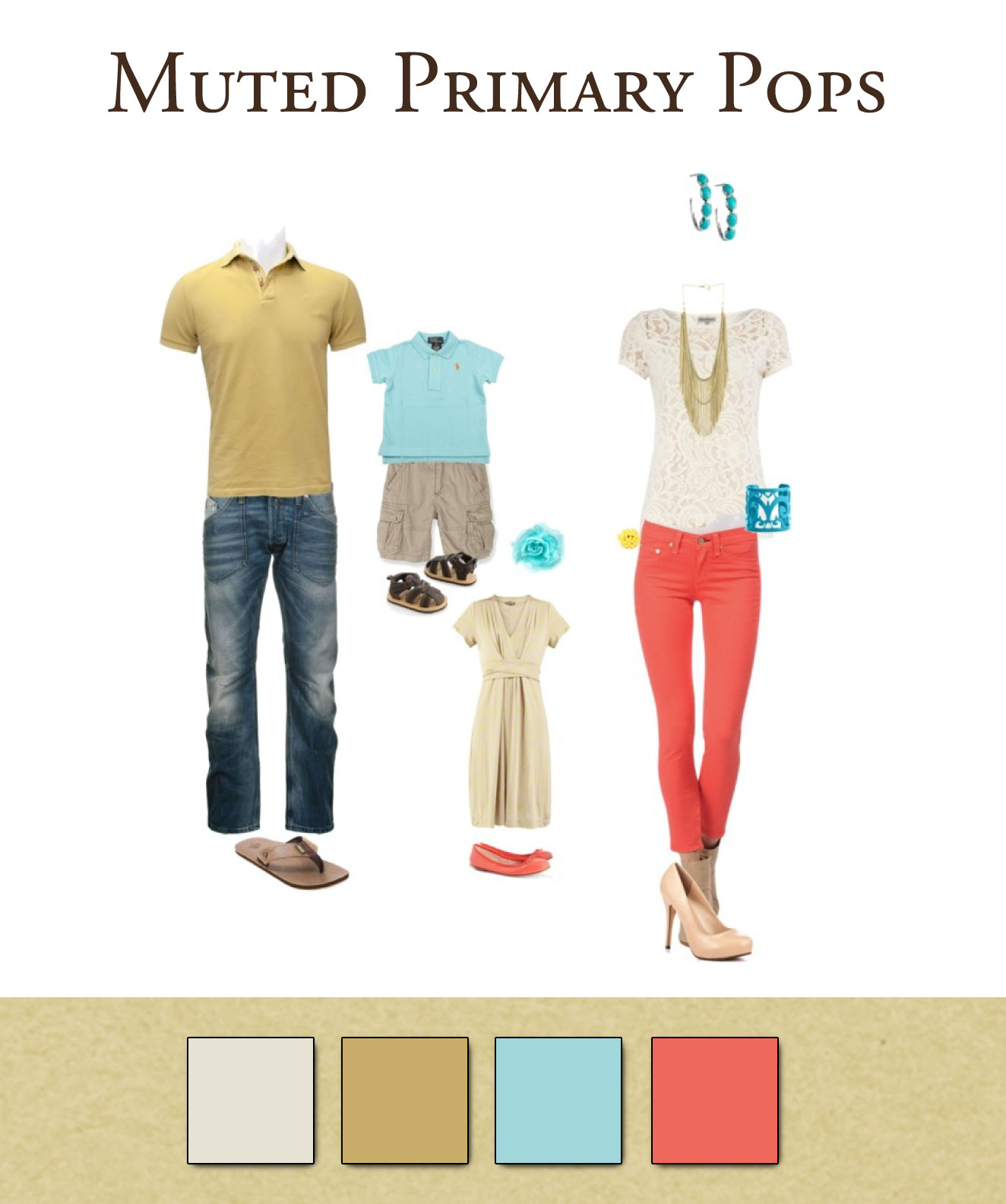 Muted Primary Pop
This is a new look that I really love! If you think back to grade school when you learned primary colors – you'll remember that the primary colors are red, yellow, and blue. So in this set of outfits we see our primary colors in more muted tones and combined with an ivory color to tie them all together. It's a fun and pretty look for just about any location.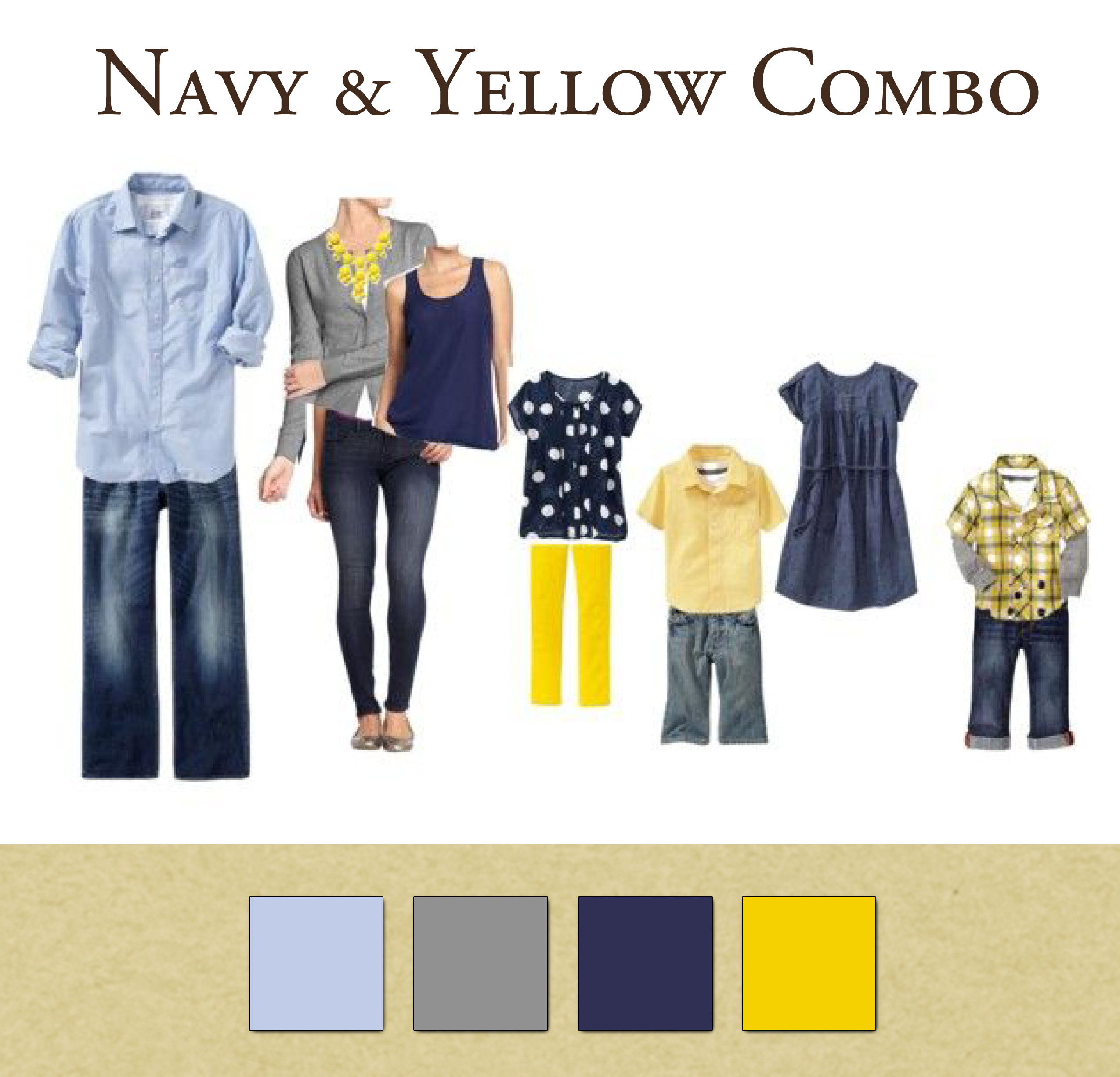 Navy & Yellow Combo
Mustard yellow is all the rage these days! I love this fun cheery combination that combines the warm cheery yellows with cool light blue and navy. The color combinations balance each other really well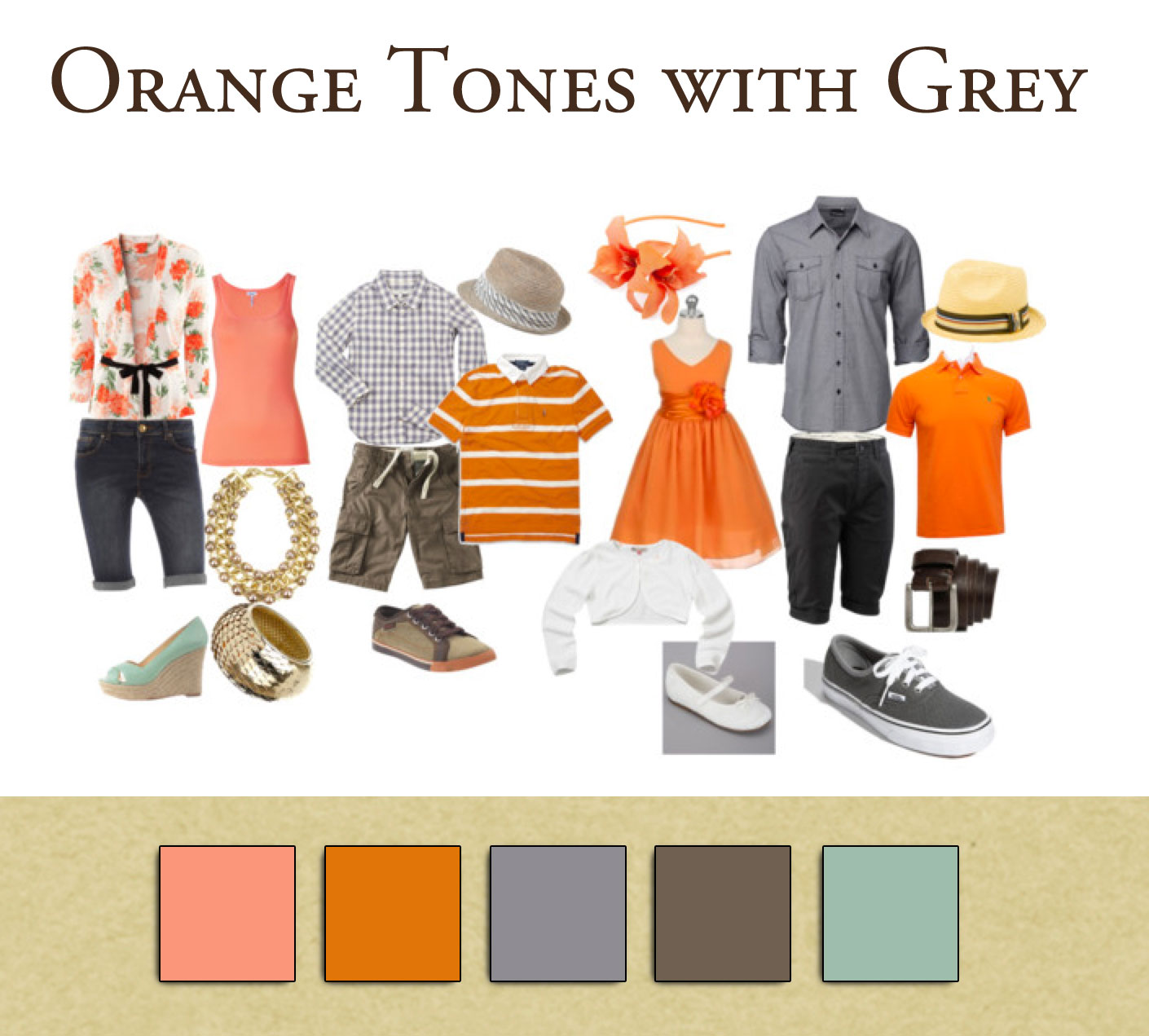 Orange Tones with Grey
This is a fun way to do a splash of color and still pull everyone together! Here you can see the two smallest kiddos' outfits are that vibrant orange color. The little girl is in an orange dress with a white sweater and shoes and the littlest boy is an orange and white striped shirt. Now mom's peach top takes that orange color and simply softens it, which is why they still look like they go together. Then add a touch of neutrals with greys and browns. For fun mom added a pop of seafoam green in her wedges. You can see how this palette is a little more complicated but everything still looks like it goes together. (And mom's fun heels and jewelry help make certain the little girl in the orange dress doesn't look too dressed up for the rest of her family.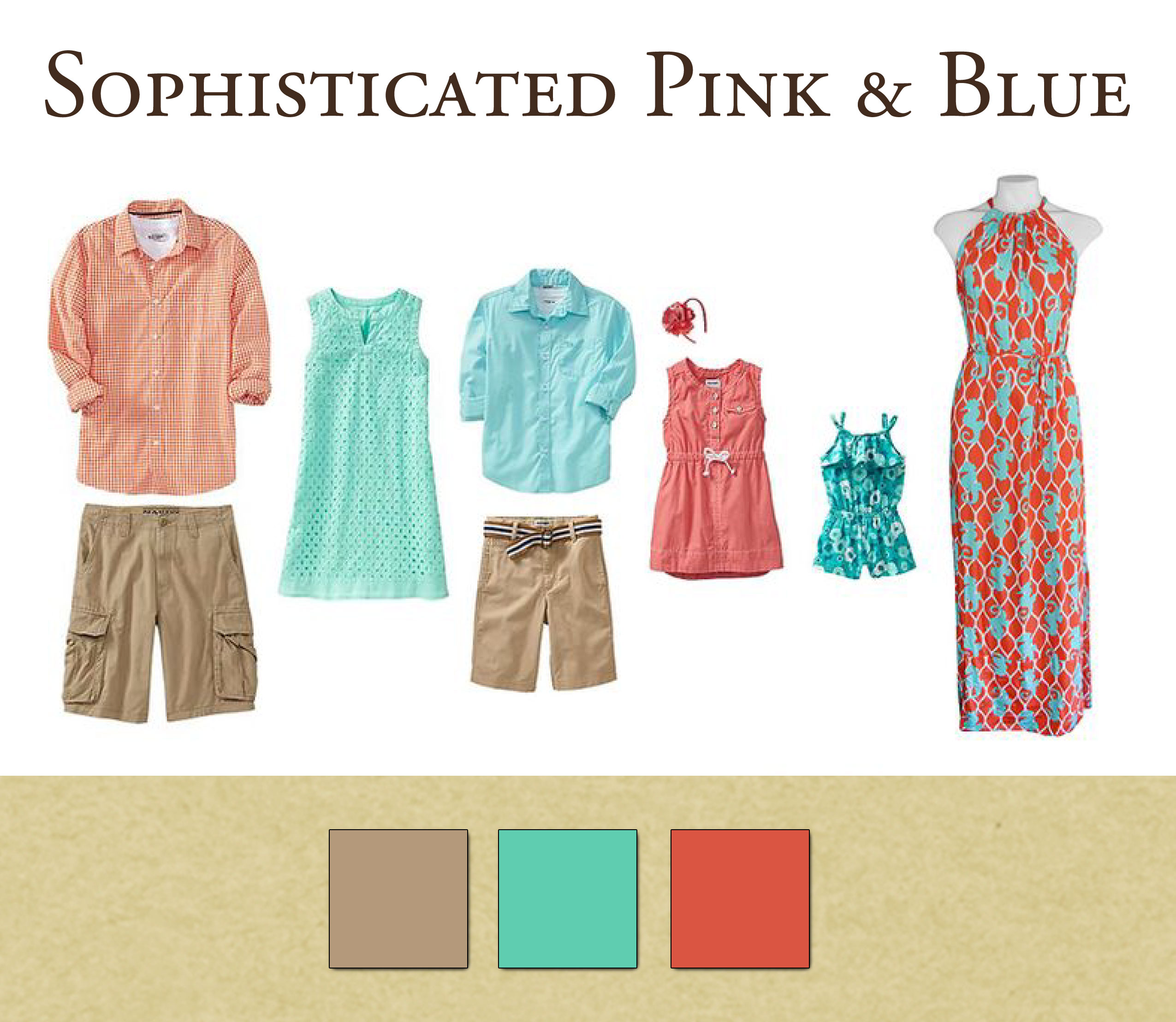 Sophisticated Pink & Blue
Who doesn't love a fun spin on pink and blue? The fun thing about a combination like this is that you're combining the warms of the pink and the cool tones of the blue and throwing in the neutral tans to pull it all together and keep it balanced. In this outfit build – mom's dress is really the start for the palette. The other shades of blue and pink are all pulled from her outfit, which makes it simple and easy to do!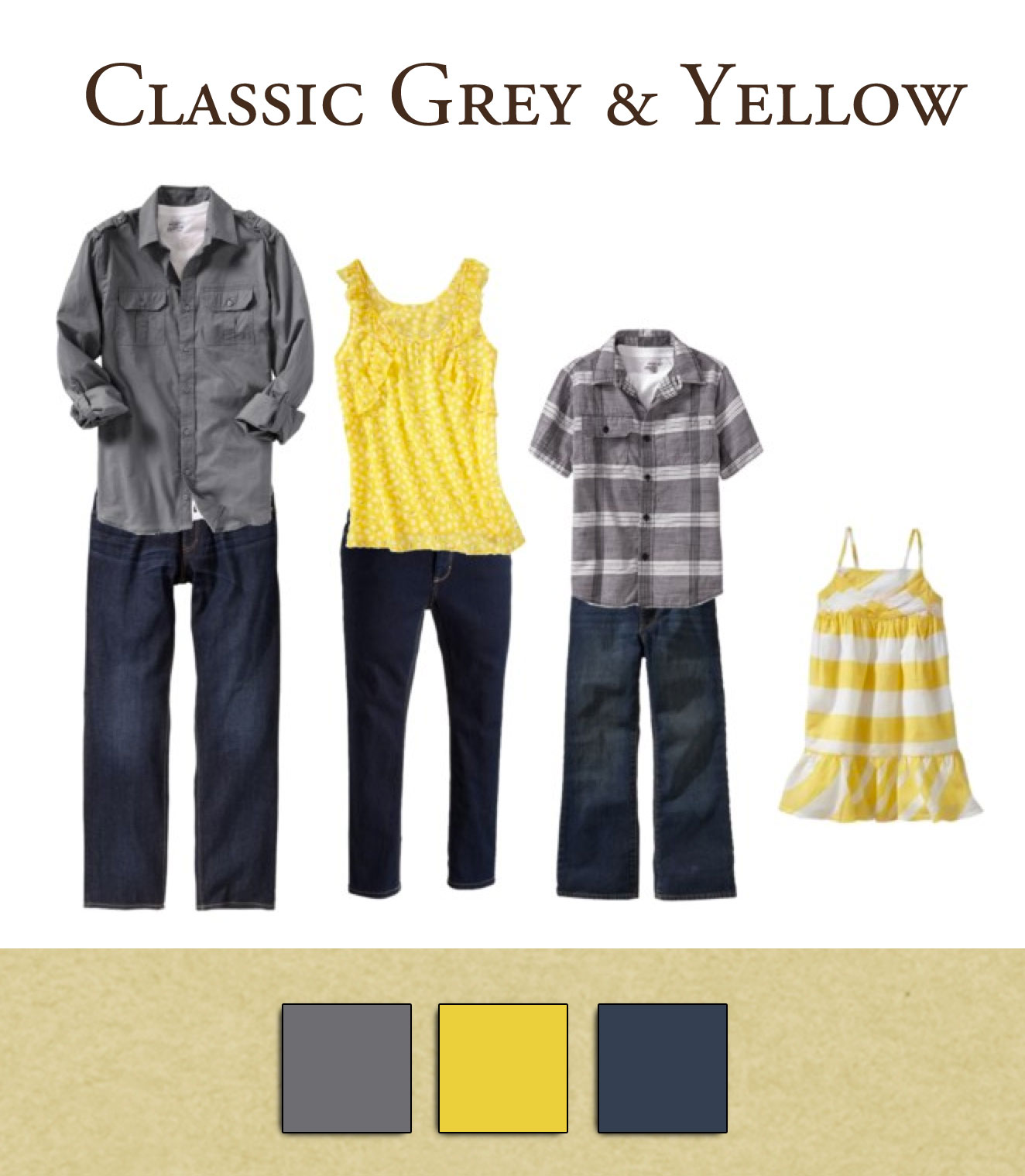 Classic Grey & Yellow
We've done yellow and navy… now we're doing a simpler spin on it with the yellow and grey. The fun way they built this outfit option is having the girls match and the boys match. So you'll see mom and daughter are both in yellow. While dad and son are both in grey. Add some dark wash jeans to make this a nice dressy casual look for your family!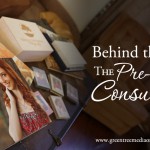 Previous post The Benefits of the Pre-Session Consultation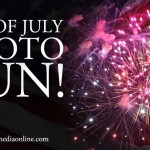 Next post 4th of July Photo Fun!