Okay – so to start – I do not have first hand experience with international adoption, which means my knowledge is limited to what I learn from others. It's also important to note that international adoption laws and process changes frequently so all information in this post is current as of October 2018.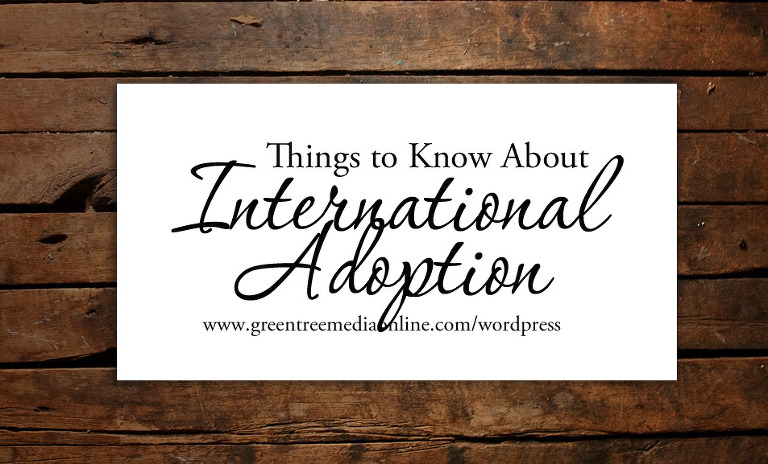 After my last post about the different types of adoption, I realized that there is SO much information that it would be far easier to break this down into more bite-sized topics. And you can break these down even further than I'm going to, but I wanted to start somewhere – so here we go. Today I'm going to focus on International Adoption because while I was working on the last post, I did a TON of research and found a lot of information.
I feel like this is probably the type of adoption people really think of first when they hear the word… children in an orphanage in a foreign country. These are children who are often abandoned and truly have no family to speak of so adopting international really is providing a child with a loving home. However, this typically isn't any easier of a process than any other adoption.

First of all, you can't adopt from just any country. Some countries are closed to international adoption because they are trying to place children with families in their own country. Some are closed due to political reasons, like Russia. And some of the poorer countries are closed in an attempt to protect children and families from things like child trafficking. (Because sadly this has happened where children have been kidnapped from loving homes and "sold" as a child that needed adopting to an unknowing family in the states.) AND… because the status of what countries are currently open to adopting is always changing… there isn't really a place you can go to see a list of what countries are open. The best way to do this is really to think of some countries you might want to adopt from and then check whether they are open. At this time, the ten most popular countries to adopt from are: China, Democratic Republic of Congo, Ukraine, South Korea, India, Uganda, Ethiopia, Haiti, Columbia, and Taiwan.

There are also a lot of rules to be considered when adopting internationally. For example, every year China updates the requirements for couples (or families) wishing to adopt from their country. They have rules about your age, income, marital status, health, even what your BMI needs to be. Tied into that are the adoption laws of different countries because each country has its own laws and regulations. This can become a concern when adopting and the laws change mid process. You have no idea how painful, scary, and costly it can be to have this happen and to literally have to fight for your right to bring your child home. We've known people who've gotten all the way to their child, met them, and then the laws changed and they were no longer able to bring their child home. They had to stay in that country for MONTHS and hire attorneys to legally fight the law change so that they could bring their children home. It adds stress, expense, and heartache to the process and it's certainly something to be prepared for.

This is why it's so important to pick a great international adoption agency and to be discerning in that selection. You want to be sure that you're working with an agency that is ethical in their practice and also isn't going to charge you crazy over-the-top fees. So you should look for an agency that is licensed and accredited with a good reputation. To be extra cautious you can also check places like the Better Business Bureau to look for complaints or issues people have had. One of the best ways to find out about an agency you're interested in is to talk to other people who have used them. You can learn so much more from people who've walked this road too – especially if their experience has been recent.

With any adoption there are stacks upon stacks upon stacks of paperwork. You've got your homestudy, which involves tons of forms, references, a background checks, clearance from your doctors, essays to write, and more. But international adoption comes with additional paperwork in providing documentation and obtaining permission from both our government and the government of the country you plan to adopt from.You'll need to submit a dossier to the country you're adopting from and open a correspondence with USCIS to start the paperwork for appliying to adopt an orphan. Then after you finalize your adoption, you'll have to complete your child's immigration process and apply for a birth certificate and social security number. Plus any post-adoption reports that need to scheduled and submitted.

The financial commitment for international adoption si no joke. Depending on where you're adopting from, it can cost anywhere between $30,000 and $50,000 which covers a variety of things including fees for the agency, government, and legal, as well as donations to the country/orphanage and travel costs. Of course there are other ways to help offset these costs through grants, fundraising, tax credits, employer benefits, and loans. You'll just have to do a little research to see what the options are for your specific situation and the coutnry you're planning to adopt from.

When adopting internationally, you will most likely not be able to adopt a child who is under the age of two (excepting rare circumstances with special needs children). This means a child you adopt internationally, will have experienced some degree of trauma in the loss of their birth family and time spent in an orphanage. This trauma effects the way the brain develops and can impact behaviors and thinking. So it's really important to be prepared for how this many impact your child and family. Additionally your child may struggle to adjust to their new life with you – foods, schedules, naptimes, … all of these things are dramatic changes for your child and can be hard for them to adjust to. Enlisting the help of professionals may be necesary to assist you in getting your family and child adjusted to this new life.

The adjustments don't end there because when adopting internationally, you're pulling a child from their culture of origin. Cultural identity development is something all people go through, but when a person is pulled from their culture of origin – it can create conflict and struggles in developin their own personal and cultural identity. It's really important to find ways to invest some time and effort into integrating their birth culture into your family's everyday life. Also be prepared to become a multicultural family. So be engaged in learning more about your child's culture of origin and even more importantly – make friends with people of your child's race. Finding same-race role models for your child to look up to can be hugely beneficial in their development.

With all adoption, you have to find a way to try and let go of control. A lot of times your timeline and travel plans are left to the whims of the country you're adopting from. This means you may not have a lot of time to plan your trips there so you'll need to be prepared to travel out of the country with little notice. You also may have minimal knowledge of your child's medical history or inaccurate information and you may never be able to locate your child's birth family to help them answer questions they may have. So really international adoption requires you to be quite comfortable being flexible with whatever comes your way.