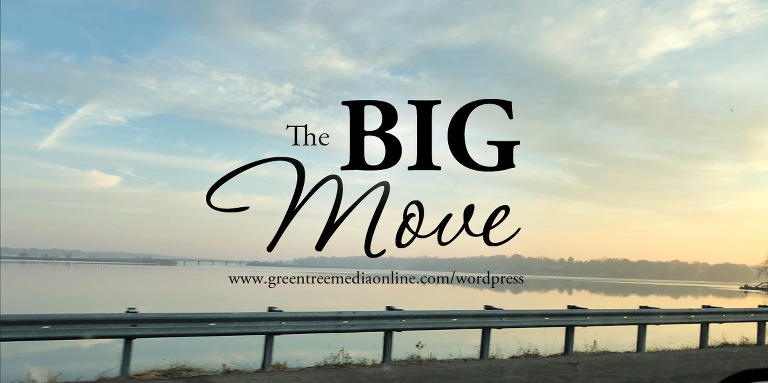 Well I know I fell off the Earth there for a while, but man! Life got overwhelming and the only way I knew how to even try to stay on top of everything was to focus only on the necessities, which meant packing, mom-ing, school, and editing/designing. But honestly the majority of my focus was on those first two.
As you guys know, we listed our house back in August… the day before my birthday. That was a really bittersweet decision for me. You know… I remember when Ryan and I first started looking at houses way back when, and I remember how much we loved our little home in the country. I had always dreamed of living in the country, of having land. And we loved our quiet life. Even as we started to realize how many problems the previous owner had hidden and the money pit of a house we had purchased… we still loved being in the country. When it burned down… yes – that was hard… but it also felt like a fresh start. We had the opportunity to build a beautiful home. So much of us… so much love went into the design. And honestly I never imagined us leaving. In so many ways – that house was a dream home. But it's funny how much you are willing to change when you become a parent and how much you're open to sacrificing when you feel God pulling you a direction.
So the challenge with the move for us was due to a 30 day closing and the chain of events that needed to happen. See we needed a contingency on the sale of our house and our buyer asked for a contingency on the sale of their house and their buyer needed a 30 day closing. Which meant we had to be moved out and close all on the same day (Friday the 30th). We also didn't have anywhere to put our things until the Thursday night before moving day when our buyer graciously allowed us to start putting some of our stuff in his garage. Plus, since Ryan started the new job he didn't have any extra time to take off work outside of the moving day Friday. So he met up with my brother, Richard, and picked up the Uhaul truck when he got off work on Thursday night. So 5 pm Thursday night – we, along with the help of 6 of the best framily (friend-family plus my baby brother Jeremy) we could ever ask for, started working to load up the truck and knock out as much as we could. I actually took Marlee in to my parents' house for a slumber party – that way we could pack up more and longer into the night without disturbing her or having her underfoot. And I'm so glad we did…
That first truck was packed, driven, and then unloaded at the new house (in the garage) in around 3 hours! That felt so amazing and it seemed like everything was going so smoothly! While everyone else was unloading at the new house, I focused on bringing things up from the basement in the old house… I started with some simple things and then decided my best bet was to start hauling Ryan's comic book boxes upstairs. Now… I've been with Ryan for 14 years. I have never once had any disdain for his comic book collection… but that all changed on November 29th, 2018 when I hauled every last one of his comic book boxes upstairs from the basement haha. Not really, but it was a LOT of comic book boxes and my hands were raw from the cardboard and the weight of the books inside by the time I was done. I felt like the stack of boxes sitting in our living room was a small visual token of how much I love my awesome, comic book collecting guy… But I digress…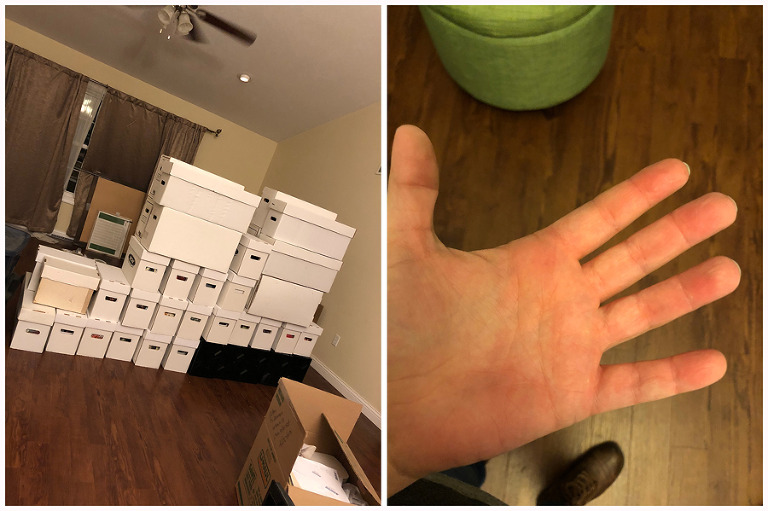 Everyone stayed so much later than I hoped or expected. I am beyond grateful… like I don't think I could adequately thank any of these people. Ryan, Chris and I kept packing until 1:30/2:00 am… but by that point we were beyond brain-dead and exhausted. Honestly by around 11 pm I think Ryan's brain fully shut down because Chris and I took over in directing loading and packing at that point. But at 1:30 am – I made the executive decision that we needed to go to bed and try to rest. Chris headed home and we went to bed. Ryan seemed to fall asleep pretty quickly – it's a gift he has that I'm insanely jealous of – but I was so stressed by all that was still left to do that I literally lay there uncontrollably shaking from anxiety and trying to run through how we were possibly going to get everything out and done by 10 am. At 4:30 am I gave up on sleep and texted our realtor just to ask "Hey – so what happens if we're not fully out by 10 am?" She almost immediately texted back to ask how much was left and then said she'd be on her way to help us. At 5 am our amazing realtor and her fantastic fiance booked it out to our house and helped us finish loading the truck and cleaning the house. While she was headed our way – I put another load of things in my van, along with our dogs, and just after she arrived – I made the drive to Decatur to drop off what was in my van and rush back to finish up.
Truth be told we didn't get "everything" out by 10… we talked to our buyer and got approval to move things out to the barn – we just had to have it out by the end of the day. But we did it… only with the help of amazing people – we did it. We met our buyer and signed over the papers to our beautiful home to a new family I'm sure will love it for years to come. And right after signing the sale of our house, we signed the papers to purchase our new Decatur home. But once that was all done – there was still work to do… Ryan dropped off the Uhaul at our new house where I stayed to start unloading with another set of friends who popped over to help. Meanwhile, he headed back out to meet some movers to help pick up the last few things at our old house.
Truly… this whole experience has been crazy… it was maybe June (I don't even know if it was that long ago) that I posted on facebook that we felt God calling us back to Decatur and we had a BIG list of needs to make that happen: a new job for Ryan, the sale of our home, and the purchase of a new bigger home to accomodate the path God is leading us on. That's less than 6 months you guys… 6 months and all of those things happened! That's crazy!
My sister told me early in this process that after our previous struggles, she believed God was going to show us his goodness in this plan. I'll be honest and admit that my brain just went, "that's a nice thought but our life doesn't seem to work that way." But man! Was she right! Yes – it was intense and stressful and my anxiety was crazy high and we could NOT have done any of it without God and all the amazing people in our lives who showed us blessed we are to have them! God gave us a direction and we listened (as crazy as it seemed) and we tried to make decisions based on where we felt led… and in doing that – we had all of those hopes and prayers answered in a crazy, fast amount of time!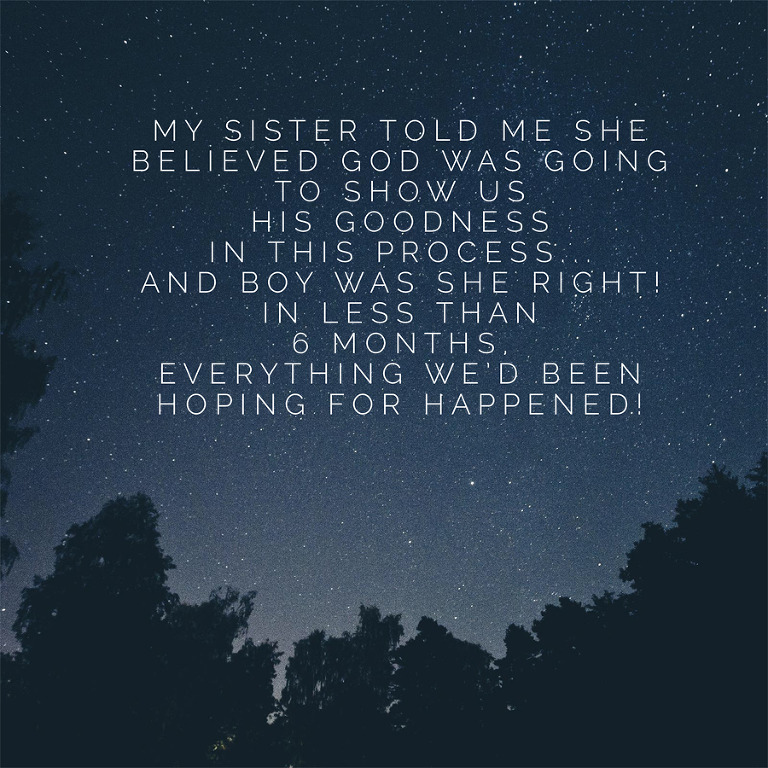 The whole thing got me thinking… you know when we were going through our struggles to grow our family, it was a natural instinct for our Christian friends to say "it's all in God's perfect timing." And yes – God's timing is perfect but when you're in the middle of it – all you can think is, "But why not MY timing?? Why can't His timing and mine be the same??" There were many times I thought this while we were in our 7 year wait for Marlee. But this – this basically was my timing. I even jokingly had told Ryan after we accepted an offer on our house (with a contingency) – wouldn't it be cool to be moved in and settled before the New Year… and that totally happened! But the thing is – in the midst of all of that – I was totally stressed and honestly kind of complaining about how quickly things were happening and that it was too fast. And that comparison of the two made me pause and realize that sometimes God's slower timing is better – we just don't know it… we don't know what he's saving us from.
But before I wrap this up I want to give some shout outs to the amazing people who made this move possible. First – our beyond fantastic realtor, Dixie McElroy of Brinkoetter & Associates. As I previously stated – she went above and beyond our expectations. She was kind and attentive. We never felt pressured and she always listened to our concerns and wants and used that information as we continued to search. She worked around our schedules with work and a busy little one. And she gave us really valuable information while we were making decisions. I would 110% use her again and recommend her to ANYONE who's looking to buy or sell a home! She's amazing! After our journey to get here – I feel like she's more than a realtor – she's someone I would call a good friend!
Second – Jared of Homespec Corp. for a thorough home inspection. Our last home inspection experience was more than a little disappointing. So many issues went un-noted and left us with a money-pit house. So I knew I wanted to work with someone who was going to find any problem we needed to be aware of and that's exactly what you get with Jared. I was blown away by the attention to detail and the wealth of knowledge he had. I actually learned a ton of stuff I didn't know and most importantly, he provided me with the confidence that we had chosen a sturdy and safe home.
Third – Anthony and Tony of Taylor Transfer. These were the guys who got called at the last minute on Friday morning. They booked it out to Kirksville in record time (30 minutes!) and had the truck carefully loaded up super fast. They also did a fantastic job helping unload at the house too. They were super professional, incredibly punctual, and excellent with the move!
Finally – seriously – none of this would have been possible without our amazing framily! On Thursday night we had 7 amazing people come as soon as they got off work to help us load and unload and pack. Not exactly what anyone wants to do when they get off work. A couple of those friends (Daniel & Chris) stayed WAY later than any friend should have! The next day my dearest friend Sarah brought us all lunch… which honestly we probably would have skipped and forgotten to eat completely if she hadn't brought food – so that was MUCH appreciated. And then we had Ryan's parents, my brother Rich, Chris, and honestly if you were here Friday and I'm blanking – I'm so sorry – lack of sleep made those two days blur together in my brain. I'll be honest – Ryan and I don't have a ton of friends – but the friends we do have are family to us and we love them and value them probably more than we could ever adequately express.
So we're here… but still getting settled. I'm doing my best to try and get things into their new place as quickly as I can while still maintaining as much normalcy as possible. I feel like that's just kind of become our life… watching all the pieces move around us while we do what we can to try and make it as normal as possible haha. But maybe that's just life. Thank you guys for always being so awesome and understanding while we're in the middle of all this crazy change. I'm really excited to see what lies ahead and what our future holds here in Decatur!