Sharing A (no longer) Secret Calling
March 5, 2018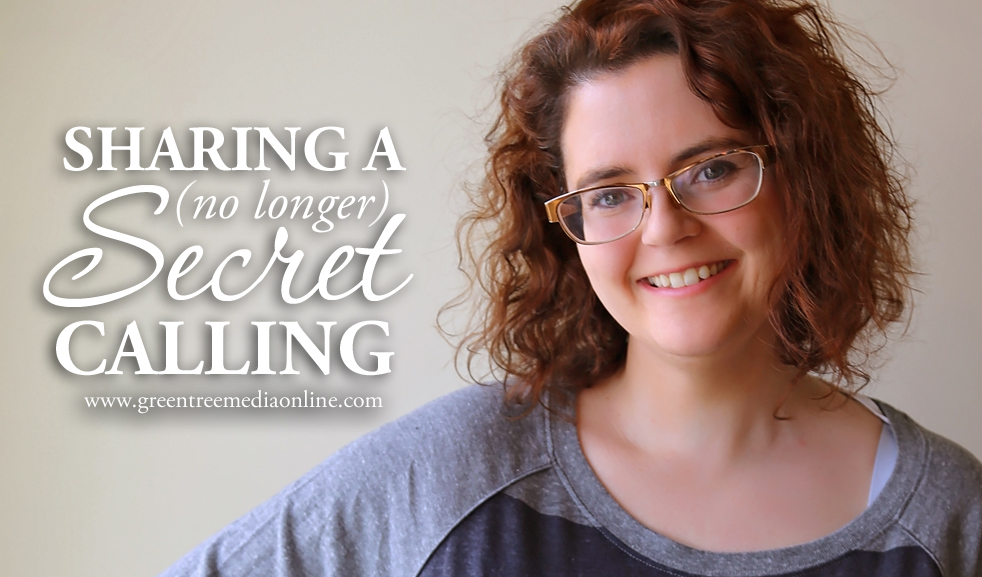 So I've been holding this secret for a while. Those of you who've been here a while know that Jesus has had a pretty big impact on my life. Like he's sent us signs and guided us on our journey to Marlee. I can honestly say I wouldn't be where I am today without the relationship I have with him. Well it was in April of 2016 that I felt him call me again. This time in a whole new direction…
I woke up and no sooner had my feet hit the floor than I had a thought pop into my head that didn't feel entirely my own. Now there are different kinds of "not your own" thoughts. There's the intrusive thoughts of someone with anxiety or OCD or PTSD, and as someone who's dealt with both anxiety and PTSD I can comfortably say this wasn't it. The other kind of "not my own" thought I've experienced has been when God put it there. I always know when it's that because it's not a panicky, scared or irrational thought… it's usually just incredibly neutral. It's not mine – so I don't typically have a feeling connected to it when I hear it. (And yes – I realize how crazy this might sound, but God works in mysterious ways guys.)
Since the thought was so sudden and random I kind of just shrugged and thought that was weird and continued on with my day. But that thought just wouldn't go away. It lingered… for a while! Finally, one day when Ryan and I were in the car I just looked at him and told him the idea that had been on my mind for the past few weeks.
His first question to me was, "Why do you want to do that?"
And I had to tell him I didn't know. "Honestly I don't want to. Ryan this is crazy. It's not smart or rational. It's going to be expensive and I have no idea what I'm going to do with it when I'm done. I seriously have zero plan. I just feel like God is telling me I'm supposed to do this."
He looked at me with a raised eyebrow and said, "You have no plan? … You don't even want to do it, but it's been bugging you for weeks?…"
"Yes???"
"Well then, you need to do it."
"What?! Ryan this is crazy. Why do you think I need to do it?"
"Stephanie, you don't do things without a plan. You don't take risks… ever. I have to believe that if you have this idea pop into your mind that you don't want to do and have no plan for – that has to be God. And who are we to argue."
Ladies and gentlemen – that's my amazing husband for you. Rationalizing to his over analytical wife why she should do the very thing she had been putting off. So I spent a week doing some researching and figuring where the best place to start was. But here it is…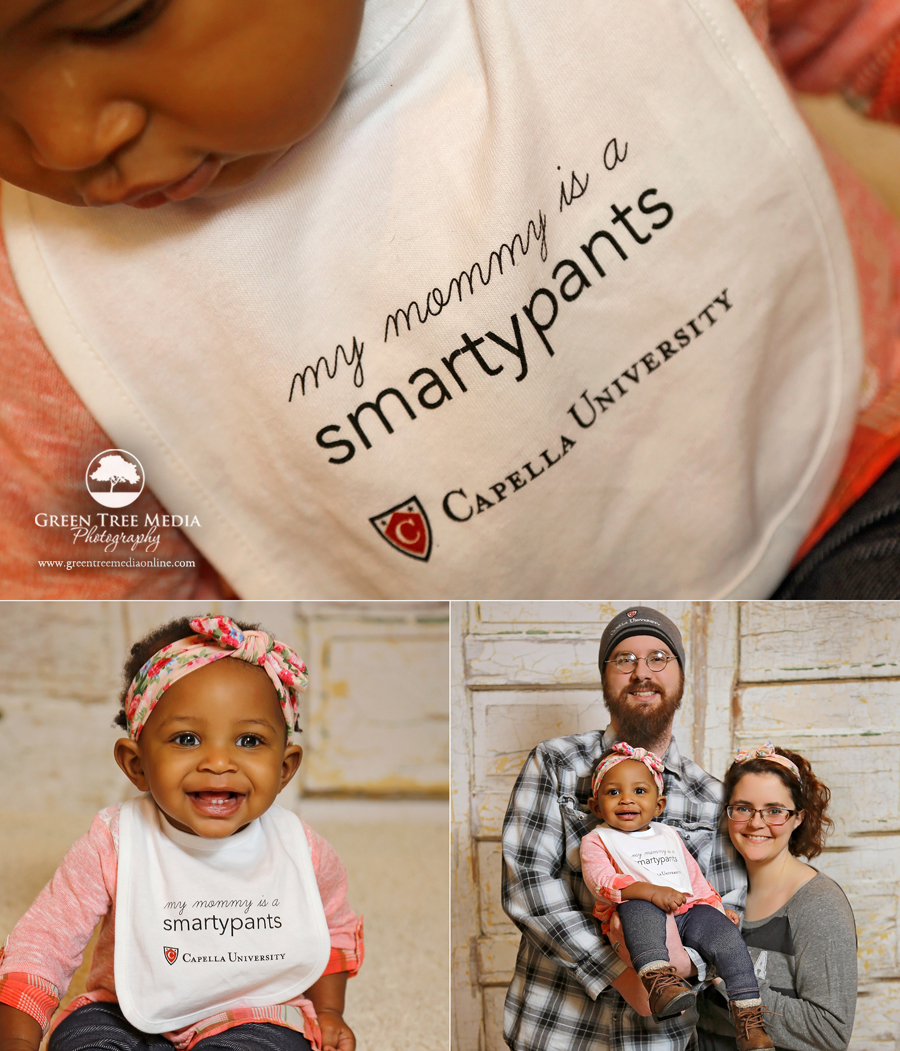 I'm back in school – getting my masters degree in counseling! And it's definitely going to take me forever because over the past two years, I've only really been able to take a class at a time and still maintain my business while being a good wife and mom. But I'm really proud of myself for doing this even if it's a little scary spending this much money and having no idea what I'm going to do for sure when I'm done. I even was making sure to do my homework the whole time we were up in Detroit with Marlee.
I can tell you that I spent a week in Chicago in February for residency… being away from Marlee and Ryan for a whole week was super hard. (It was the first time Ryan and weren't together on Valentines day in 14 years too!) But I learned so much from that experience and I know that even if I don't have a plan… this is definitely what I'm supposed to be doing right now. I met so many amazing people in my cohort and outside of it. I learned so much from my professor. And it was such an amazing thing to be in a room full of people who are deep thinkers and passionate about learning and helping others.
Plus, I also got inducted into Chi Upsilon Chi – the Capella University chapter of Chi Sigma Iota, which is a huge honor. It's a group dedicated to promoting scholarship, research, professionalism, leadership, advocacy, and excellence in counseling, and to recognizing high attainment in the pursuit of academic and clinical excellence in the profession of counseling. I'm very proud to say that I've maintained a GPA of over 3.5 to earn acceptance into this group. Of course, I feel like I need to give God a lot of that glory because there are days I seriously don't know how I'm managing it all… I really do think he's got a hand in this part of my life too.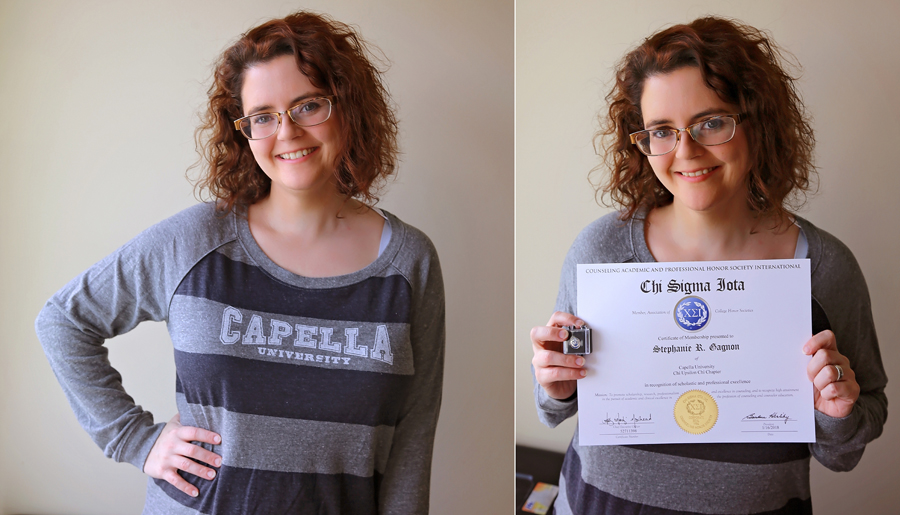 I may talk more about residency in a future post if you guys are interested in that, but for now I just wanted to share what's going on in my life because this is a huge part of my life too. This program has changed me in a lot of ways and opened my eyes too. At one point I wondered if God just had me doing this for Marlee because I had just completed a course on multicultural awareness right before we got the call. But I never got the feeling I was supposed to stop, so I just kept on going.
And while I still don't know what the plan is…  Throughout the program you have to share your why for pursuing counseling and what you hope to do when you become licensed. It's part of making sure those who are pursuing this degree are in it for the right reasons. Well being forced to think about it over and over, and write it down again and again… I now have a dream for what I hope to do. Only time will tell if it's what God has in store.
But don't worry – I'm not going anywhere. I'm still here to capture your beautiful loved ones and your cherished moments and milestones. Green Tree Media isn't closing anytime soon – I've got too many amazing families I don't want to miss getting to photograph every year!  I guess you could say I'm just growing my knowledge and skills in areas outside of photography now too. 😉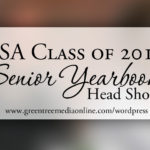 Next post Class of 2018 LSA Yearbook Head Shots