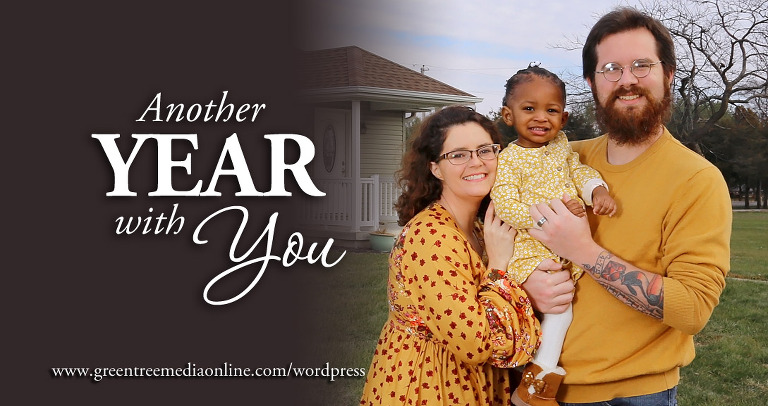 As I sit here writing this, I'm eagerly looking forward to when you get back home and I get to throw my arms around you. Sunday will be the fourteenth birthday I've had the joy of celebrating with you. I sit here and I think of how blessed I am that I get to be your wife. That after all this time I still so love spending time with you. I love our random late night conversations. I love how excited you get about the newest Marvel movie…
While some may have thought I was crazy for knowing I wanted to marry you when I was just 18 years old, finding you young has been one of the most amazing things. Because we're not just growing old together, we've grown up together too. We've learned and evolved together. Those random late night conversations that were once mostly about entertainment have shifted into deep, intelligent conversations about life and society and justice and Jesus. Sometimes you open my eyes to something I didn't know and sometimes I do the same for you. While growth can often mean growing apart – I love that our growth has only helped to further solidify our understanding of one another and the world we live in.
I love that growing up together has meant a merging of interests. I was once the girl with a small collection of favorite music I listened to on repeat, coupled with my Lord of the Rings movies that I'd watch over and over. But growing up with you has opened me up to a world of music and movies I may never have experienced. I love that! And I love how much music means to you. I love watching you FEEL music in your soul and get excited to share a band with me. I love how I can play the first 10 seconds of a song and you can tell me who it is. It amazes me and makes me happy all at the same time!
I love that growing up together has meant finding a mutual love of food. You are all about taste and flavor and how a food can make your tastebuds dance. And I love finding things that are good for my body and make me feel healthy and strong. It's been fun and exciting to find recipes that marry both parts of our love in a meal. And you've given me so much confidence in the kitchen. I've spent so much time doubting my abilities because you are such a phenomenal cook. But you always make me feel proud of the meals I make even when they aren't the best I've ever made.
I love that growing up together has involved experiencing so many life changes together. You were my initial investor in my business – buying me my first professional camera when we couldn't really even afford it. To this day you remain my biggest supporter and believer in my ability to do anything I set my mind to. We bought a house together – a fixer upper on an acre of land in the country. It may have been a money-pit but we were so happy to have a place to call our own. And then we watched that all go in flames – together. I remember the fear in your voice when you thought I was going to try to go back inside and I remember the terror rising in me when I thought you were going to do the same. I remember huddling together in the cold in our yard… somehow feeling safe and calm despite what was happening just because your arms were around me. Then we built a home together – not something many 20 somethings can say. And we learned more about what our ideals were in a home. And of course we grew through our struggles to grow our family…
You have been a rock through some of the hardest moments in my life. You've given me strength when I didn't think I had any left. You've been a listening ear when that was all I really needed and a comforter when I really wanted a hug. You've lifted me up and trusted me to do the same for you. And while we've certainly done a lot of growing up – you are exactly the same man I fell in love with all those years ago. You are kind and sweet and funny and smart and strong and determined and hard-working and loyal and passionate and the best daddy ever. And you are more than anything I ever imagined I would have or deserve in a spouse.
So thank you my dear. Thank you for letting me love you. Thank you for always being by my side. I love you more than I could adequately express in a few simple words here. But I'll spend the rest of my life continuing to try and do just that! Happy Birthday, my love!