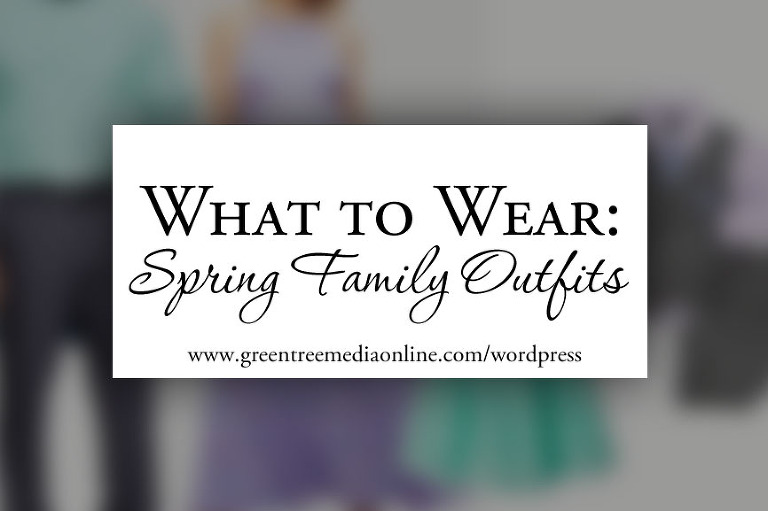 Now that the weather is starting to warm up and sessions are starting to fill in, I decided it was time to do another What to Wear Wednesday! It's been a long time since the last What to Wear post – so we were long overdue for a new one! I debated on what type of outfit ideas to start with and ultimately decided it was time I did a spring look guide. In fact, looking back – I've never done a family spring look book – so let's do it!
Mermaid Shades Dressy Look
It seems fun mermaid shades are all the rage – especially during the spring time! So I put together this fun mermaid inspired dressy look. I feel like this would be a perfect outfit creation for a family not only for photos but for Easter Sunday. It's a dressy look with lavender and aqua and the perfect combo to let everyone shine!
Sunshine and Blue Skies Casual Look
After the last super dressy look, I wanted to create something a little more casual. I love combining the sunny shades of yellow with cooler blues to build some awesome contrast and balance. I also loved the idea of moving the denim around so while mom has denim on bottom – dad has it on top! Building outfits within color tones can be so fun and easy. And don't forget the impact your footwear can have too! We kept the casual theme with sneakers, flats, and sandals.
Thinking of Roses Dressy Look
Now back to another dressy look! Lately, I've been super intrigued by pink and green combos, and it's so easy to find pink dresses for little girls. So I started by finding an adorable dress, and a dress shirt for dad that matched. Then I found a lovely green dress for mom and a shirt that matched for a son. This kind of coordinating can be super fun and simple and makes sure everyone goes together without being super matchy!
All Things Green Casual Look
You guys know how much I LOVE green! So I decided we ought to create an awesome casual green outfit ensemble. This time I started with mom's top because I saw this cold shoulder shirt and loved it! From there I found a cute little white shirt for a little girl and a green polo that matched mom's shirt. To include dad we added a white polo and put all four of these family members in jeans. Then I realized I have this tendency to just do four people when I build these outfits – so I decided to add a teenage daughter. And to mix things up – we put her green on bottom in a pair of skinny jeans and her denim on top! You could dress this up with some fancy shoes (like mom's wearing) or keep it casual with sandals or converse sneakers.
Blush & Tan Dressy Look
Back to a dressy look! It seems like we created a lot of fun colorful outfits so how something a little more neutral with blush and tan. For this one – I knew what I wanted mom to wear – a blush colored wrap top with a flowy cream skirt. From there I found a sweet little pink dress to kind of match mom's dress. Dad needed to be a little dressy so I put him in a white button down with khaki pants. And then the oldest son is wearing khakis like dad but with a blush colored button down and cream sweater vest. I added a little baby outfit that is a white onesie with tan overalls to make sure everyone goes together seamlessly. For shoes, I'd probably do simple flats for the girls and brown dress shoes for the boys