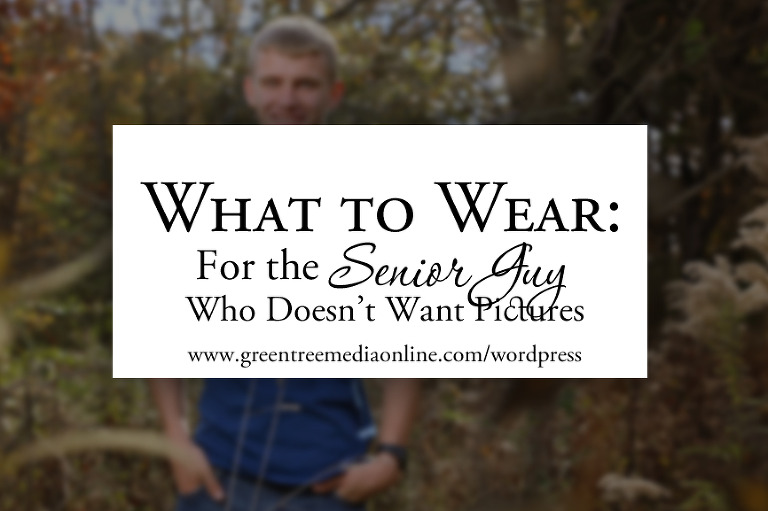 As weird as it may sound when I was a senior in high school I was not keen on having my senior portraits taken. So I sympathize with my seniors – particularly my senior guys – who don't really want to have the pictures taken but are doing it for their moms. I always do my best to make the sessions fun and quick so that you guys can get back to doing what you enjoy. So today what I'm doing is showing you how you can start with a basic outfit and build 4 other looks simply by adding a different shirt on top. So let's go!
The Foundation
So this is where we start and it's about as basic as you can get! A white t-shirt, jeans, and some converse sneakers. Now your t-shirt doesn't have to be white, but a neutral color is a great idea. There's nothing flashy about this outfit – it's simple and let's the focus be just about you.
The Plaid
Plaid or flannel shirts are super popular right now (for guys and girls actually). So create look number two but simply throwing a plaid shirt on top of your t-shirt.
The Letterman Jacket
If you're in sports and have one of those fun letterman jackets, just swap out the plaid shirt for your jacket and you now have your third look. See as simple this is? But we're not done yet!
The Sweater
Want something a little dressier for mom? Just pull on a knit sweater over that t-shirt and you have look number four ready to go!
The Formal Head Shot
And if you're needing a formal head shot, just put on a dress shirt and tie over your white tee. These types of head shots typically are cut off above the waist so what you have on bottom doesn't matter at all. This outfit gives you your fifth and final look.
So there you have it! An easy way to simply and quickly get a bunch of different looks that will make your mom happy and make your photo shoot quick and painless too! If you're thinking about scheduling your senior session – I'd love to help capture who you are in one of a kind senior portraits! Just call or email us today to schedule your complimentary consultation!