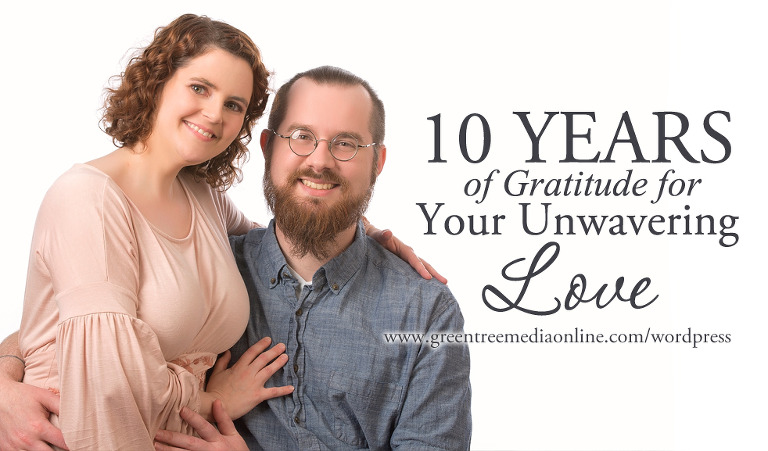 My dearest Ryan,
Ten years… That's no small thing. And honestly – I look back at these last ten years of marriage and I'm proud of us… I'm grateful for us… for you. I look at couples who've experienced far less adversity and not made it this far, and yet, here we are…fully surviving and thriving at ten years of marriage in spite of the odds and the obstacles.
I think back to ten years ago… walking down the aisle towards you in the church we both grew up in… the church we met in while we played in the band. I wasn't a girl who fantastized about her wedding. I had no preconceptualized ideas about what my ring would be, what my dress would look like, how my hair would be, what flowers would be in my bouquet or who the man across from me would be. I, honestly, never really believed that marriage was something that would happen for me. And then you came along and you showed me I was loveable and worthy. Even after you proposed… all those wedding details didn't REALLY matter to me. I didn't care about that one day really… I cared about the forever after.
And I think that's why we've made it this far. Why our marriage is so strong. Because we've had the right focus. On our wedding day, we didn't really care about the details. Our focus wasn't on cake or flowers, or invitations. Ten years ago, the thought of having all eyes on me in a room of 250 people was utterly terrifying. But as the doors opened and my dad walked me down the aisle… everyone and everything else faded away. My eyes locked on you… and you were all I saw. And that's how it has stayed…
When we've been challenged, when our world has been shaken, we've known what is important. When we had no money and were barely scraping by – we still found joy in each other. When our house burnt down and we lost everything we owned, we didn't grieve. We picked each other up, wiped the soot off our clothes, and moved forward hand in hand. And through all the years of struggles trying to grow our family, we found gratitude in the others presence and comfort and support. And we even had plans for this anniversary that changed when Marlee arrived. Everything else… it can all shift and change and fall apart, but if you're strong together – you can weather any storm.
But I can't finish this without sharing my deep love and appreciation for you. Because I know that I'm beyond blessed. I'm blessed to have such a supportive husband. You are the one who cheered me on to start this photography business all those years ago. You even invested in my first nice camera – a show of your confidence that I could do this. You've supported me in sharing our journey and struggles, in starting my support group, in going back to school. And that faith you have always had in me, even when I had none in myself, has helped me to grow into the much more confident woman I am now. I truly would not be the woman I am today without you.
But you're not just supportive, you are also a selflessly sacrificing man when it comes to me and Marlee. You've let go of your dreams out of a desire to provide for our family. There isn't a day that goes by that I don't realize that you've let me have my dream at the expense of your own. And you're so quick to do anything you think is in the best interest of us girls, regardless of it's in your best interest. It's such a beautiful quality and I want you to know it doesn't go unnoticed.
You've been exceedingly patient and understanding of my own struggles. When I was an emotional mess during our infertility journey, when I've been in the midst of processing things, on days when I just feel stressed or overwhelmed by everything I'm trying to get done – you give me the space I need or the comfort I need or the time I need to get things done. You don't judge me or make me feel less than for my emotions. Even when you don't relate or fully understand – you always try to by being a listening ear and asking questionst o help you understand better. Your compassion and love for me is evident in these moments when you reach outside of your norm to show me you care!
And I have to admit – I'm grateful for your intelligence. Lord knows, we've spent many a night staying up to late having deep and real conversations about hard subjects. Conversations you can't have with just anybody. I so love these times where we get to talk because I almost always learn something from you and sometimes (if I find the right words) you learn something from me. And I think that's beautiful – that we can continue to help one another grow, which leads me to my next point…
Ryan, you make me a better person all around. You are such a good and amazing man. You've loved me at my best and at my worst. You've helped me realize my worth isn't dependent on my waist-size and that you loved me no matter what I looked like (because I was always more than the number on the scale.) You model so many amazing qualities supportiveness, intelligence, selflessness, the willingness to learn, patience, strength, … I could keep going. And when I have the tendency to sometimes get stuck in my own thought patterns – you have a way of throwing a wrench into the spiral and making me rethink things. Even if you don't "fix" the thought pattern – you interrupt it, and make me re-evaluate. You balance me, my dear. You're the other half I was always missing – the good part. And for the last 10 years (honestly 14 because this started before marriage), you've made me whole.
So here is to you my amazing man! Thank you showing me what love could be… and that I was able to be loved. Thank you for loving me and being loved by me for the last ten years. Thank you for being the man God knew I needed in my life. Loving you forever always!