I know I've written before (many a time) about the options that are available to you as a consumer when it comes to photographer. We've talked about finding the right photographer for you, what to look for in a newborn photographer, what to look for in a senior photographer, and more. So I thought today we'd talk about another valuable separation in photographers – studio vs on-location photography. Truthfully, there is no right or wrong choice when it comes to this area – it's totally a matter of preference. But here are some things to think about when trying to decide which option makes the most sense for you!
Studio Photography
This sounds like exactly what it is – a photographer who has an indoor or studio set up for his/her clients. This may be a store front in town or it also could be in their home. I think the word studio has sometimes gotten a bad rap because people started associating it with the old school Penney's portraits – and that's so not the case. Boutique portrait studios have a lot to offer and shouldn't be so quickly brushed aside. Here's just a few of the benefits of studio photography
– More Control Often Equals Better Portraits
One of the biggest benefits to studio set ups is the control it provides the photographer. In a studio environment, the photographer has control over a myriad of things like props, backdrops, weather, and especially light. Light is one of the most crucial pieces of a great photograph! So a studio set up provides the photographer with an opportunity to really control and shape the light to ensure the best possible finished product for their clients.
– Variety of backdrops, props, etc…
As we just discussed, a studio allows the photographer to have an opportunity for more variety in equipment and props. An on-location photographer will only be able to bring limited things with them to a location, but a studio photographer has their entire studio of items to utilize. This may be chairs, stools, backdrops, outfits, accessories and more.
– Limited Distractions
Photographers working in a studio often have the benefit of fewer distractions. When you go on-location, you're competing with anyone else who may be outside where you're shooting. This can be challenging when working with kids, pets or people who are uncomfortable in front of the camera. But in a studio – there are less opportunities for distractions which can lead to much stronger portraits and head shots!
– Lower Risk for Reschedule
On-location photography relies heavily on the weather and light. This means that there are specific windows when the light is best for a photo shoot and often pockets of the day that are incredibly difficult (if not impossible to shoot in). Of course too – if the weather is poor due to rain or snow or cold — there is a good chance you'll have to reschedule your session. These are factors you don't have to worry about with studio photographer since you are indoors where the environment is more controlled.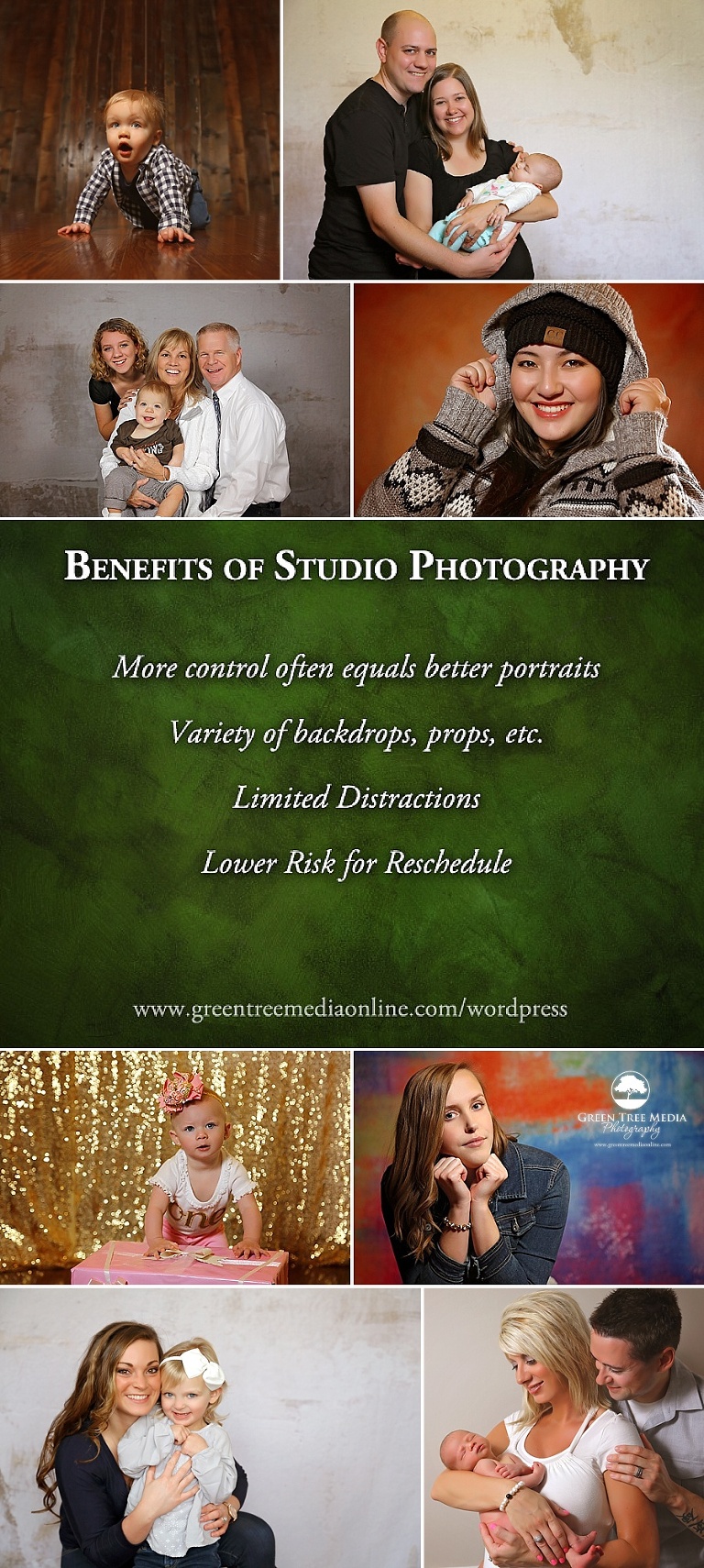 On Location
These days, on-location photography seems to be what everyone wants, and there is certainly nothing wrong with that! I think everyone enjoys being outdoors and including the natural elements of nature. Of course, there are a lot of great things about on-location photography – so let's talk about a few of them now.

– Can Feel More Natural
I often find that people (especially men) tend to relax and feel a bit more at ease when photographed outside. Whereas the studio is the photographers home turf – this space can sometimes be intimidating for others – especially if they are uncomfortable in front of the camera. People begin to overthink and it can show in their portraits. However, it can sometimes be easier to get more natural expressions and smiles from an individual in a more natural, relaxed and friendly location.
– Natural Light Feel
I know many an individual who just LOVES natural light and in truth – I used to be that person. I mean, I still love natural light, but I now incorporate off-camera lighting into almost every session whether I'm on-location or not. It's important to note that natural light has a different look and feel from studio lighting. It's often lighter, airy, and sometimes hazy with blown out skies in the background. Of course, photographers, like myself, still love to shoot on-location and simply incorporate lighting to their outdoor shots. And there is no right or wrong here – they are just different styles to be aware of and to choose from.
– Incorporate Special Places or Things
Many people have locations or places that have significance to them. Whether it's the place a couple had their first kiss, a favorite park to hike at or just a favorite restaurant in town – there are a ton of places that may have significance to our clients that would make unique and priceless memories for our clients. Photographing them in these spaces is not only unique but also a treasure for the clients we work with.
– Sometimes Open Spaces Are Better for Kiddos
While the outdoors can have it's downsides in distractions, for some kids it provides a more comfortable and less stressful space.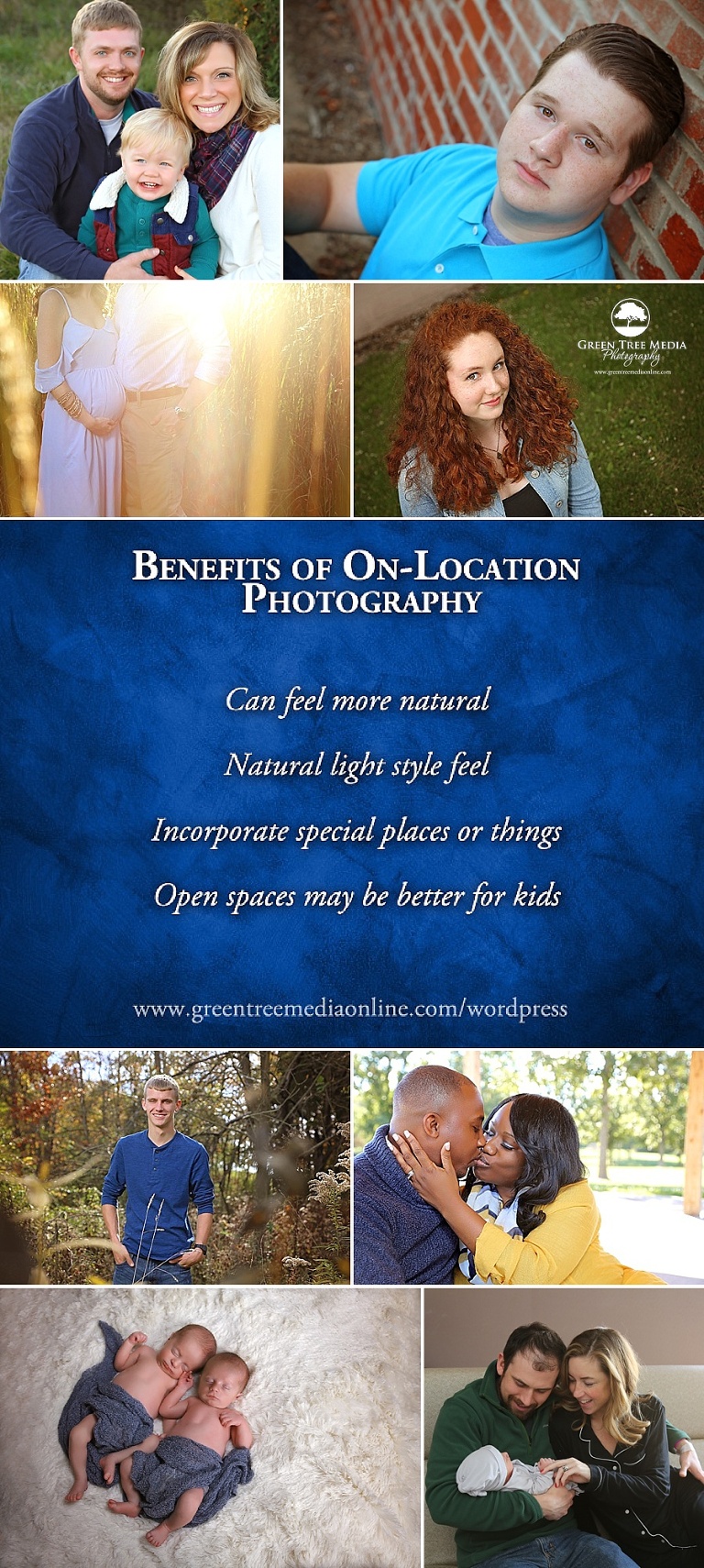 So there you have it! Some of the key differences between studio and on-location photography. There truly is no right or wrong way to set up your session. It really comes down to what you like, your timeline, and what would work best for you! What type of photography do you prefer?