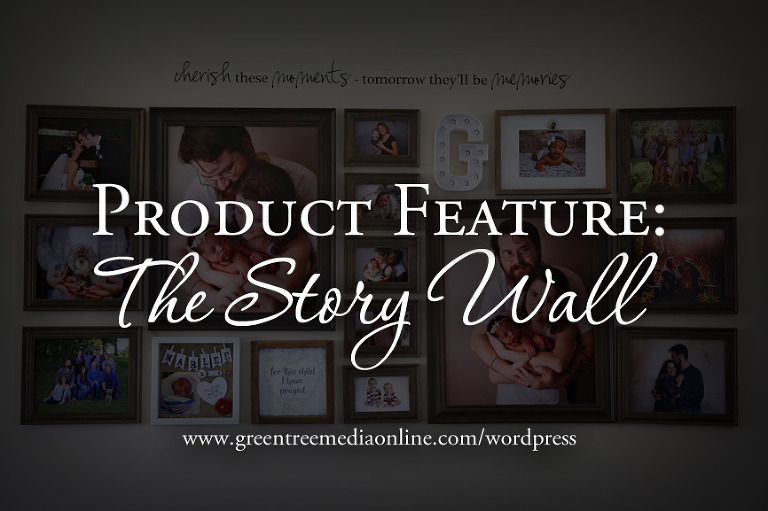 I am SO darn excited to share this new product with you… well it's not really new it's just a more fully developed idea. You guys know by now that I offer portrait art in a variety of sizes and styles. We do 4x6s all the way up to 30x40s and you can get them frames, unframed, as canvases or lagniappes (our rustic option). And you probably also know that I can help you find the perfect sized portrait art or collage through our awesome ordering software. I love being able to offer this service because I often have a hard time seeing what the finished product is going to look like. And our software takes that guess work out which so fantastic!
So what is this new thing? Well… I'm calling it the Story Wall. I had been thinking about this for a while – wanting to help families show case more than just a few large portraits. There are so many individual moments that tell the story of your life. What better way to showcase that story than through a wall of collaged moments that you can enjoy daily! I've also found that guests love to explore this wall and take in all the little details!
So our Story Wall is just one example of something we could do for you! In our Story Wall we captured our wedding day, our symbol for hope, both of our family photos, a picture of our family before Marlee, two large portraits of our new family with Marlee, portraits of our niece and nephews, more pictures of Marlee, and a few pieces of decor. I can tell you it was super exciting watching this all come together and I'm thankful to have such an awesome husband help hang them on the wall. The other thing I love about this wall design is that it has the ability to morph as our family evolves. If we're ever blessed with a second child, the large portrait on the right could be converted to a family photo with our new addition. And all of the smaller portraits are easy to change out and swap with images of a child as well. Lastly, I made sure to leave plenty of space to the right so that we could continue the wall art on if we so desired.
Below is a picture of the original design I created in the ordering software of what I thought the wall might look like: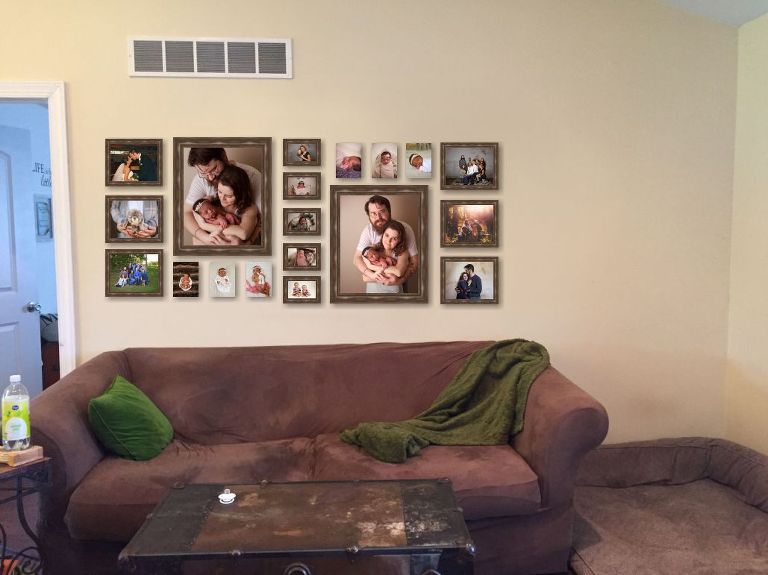 And this is the final result!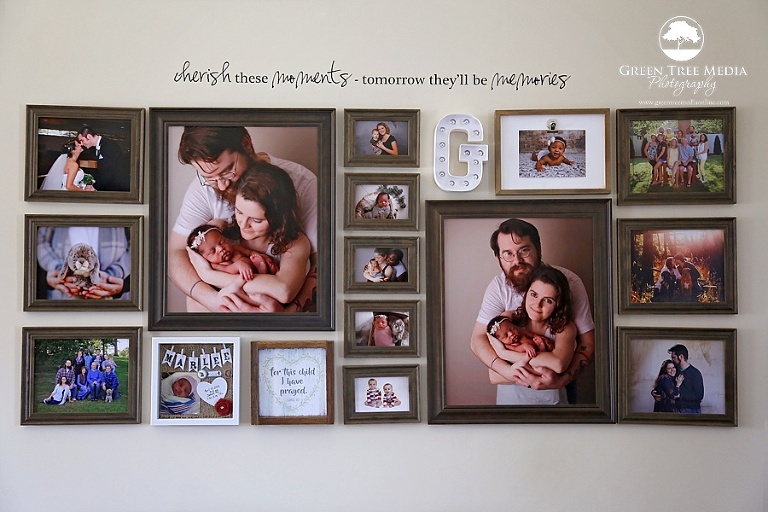 I purchased the wall quote from Zulily, but you can find these vinyl wall clings anywhere online as well as at Hobby Lobby. (Zulily it Is definitely one of my favorite places to shop because you can often find really great products for a fantastic price!) The wooden art block with the quote "for this child we have prayed" I had a custom made by an artist on. The shop's name is Castle Inn Designs and she makes beautiful handmade signs! The letter G on the wall was a gift from my sister-in-law for Christmas a few years ago. I've see these at Joann fabrics and Hobby Lobby and I was excited when I discovered it was the perfect size for our Story Wall! The final touch was a shadowbox that I custom designed for Marlee. I included a little banner with her name on it, a little heart that has her birth details like her height and weight, a photo of her in the hospital, and some other little scrap booking details. All of the portraits and frames I ordered through our vendors, the same vendors that I offer to all of you!

And just to give you a little pullback of the room too…
So there you are! Our latest product offering: the Story Wall! I cannot even begin to tell you how excited I am about this new offering! It's different and fun and I love that it can evolve and grow with you as your family changes! And I'm super excited to help custom create awesome Story Walls for all of you!