Last year was quite the tumultuous year for us… we had the adoption scam in October of 2016 which left us going into 2017 feeling rather hopeless. So we chose to focus on other things, and lo and behold – little Miss Marlee made her way into our world. It's amazing how much can change in a year or a few short months… It's why I love doing these yearly reviews each year to see what I've accomplished and how far I've come, as well as what I still want to work on. You can see last year's review and goals here.
So let's get started!
LOOK BACK
What are you most proud of this year?
There are two things I'm really proud of this year. First continuing to seek out and maintain a fair amount of balance in my life. It can be really hard to juggle the many hats I wear – wife, mother, business owner, artist, blogger, daughter, friend, support group leader, etc… Have I always been perfect at it – no. Of course not! But I'm really happy with the balance I was able to sustain this year. Being a mother and considering what Marlee needs has been a top priority, but also continuing to serve you – all my clients – and juggle the other things I have going on was important too. I feel really good about how well I did that this year and I'm looking forward to seeing how that continues to evolve as time goes on.
The second thing I'm super proud of is mostly maintaining my weight loss. I'll be 100% honest and admit that a few pounds have creeped back on. And I'm not super happy about that. But you know what – I've had a lot on my plate this year and a lot of changes. And I think only gaining a few pounds during one of the busiest falls I've ever had is pretty good. I've stuck to my workout programs and gained some pretty awesome muscles and endurance I'm proud of too. I know this is something I'll work on more next year but I'm happy with the health I've maintained this year too.
What was the biggest risk you took?
I feel like there are three kinds of risks: physical, financial, mental/emotional. I'm not one to take many or any risks, but I suppose there are varying degrees to that. I think the greatest physical risky I could do is probably try a new workout or diet. I did complete the full Insanity program and Insanity Max 30 – accomplishments I'm quite proud of. But I don't really consider that risky. I'm still seeing immense benefits from Plexus with my health but that's not really a risk either at this point. Financially – I'm VERY loathe to take risks. It's a good thing and a bad thing. The good reasons are obvious but sometimes it can limit business and progress. I did make too larger marketing purchases that I budgeted for and I didn't see a good return on my investment, but I can at least say I tried it and it didn't work in my favor so now I know for the future. Emotionally – the greatest risk we took was adoption and the long, anxiety-riddled journey to Michigan. I'm so thankful that our trip and experience ended in us getting to bring sweet miss Marlee home because that's not always the case. But it was an emotionally taxing experience and certainly risky in that regard. I don't know when or if we'll be emotionally ready to pursue that again but it's one of the best risks we've ever taken!
What did you learn this year?
I have learned even more to rely on God and put my trust in him. He has shown me how very much he will take care of me and allow me to excel when I follow his call for me. Of course this is true of our adoption journey, but it's been true in other areas of my life as well. In time I'm sure I'll be released to speak about it, but at this time it remains solely a personal project. As always though I've learned that there is always more for me to learn. I've learned other areas in which I need to expand my horizons. I've learned what my limits are and what my priorities are. I've learned who really is here to support us and who is only around when it's convenient. But I think these are things that I learn more and more about as the years go by in general.

What do you wish you had made more time for?
hahaha as a new mom – so many things! I wish I had more time for my workouts like I used to. I sure do miss running. But I know in time I can get back to that. I would love to have more time for my fine art work and other personal projects. And as is always the case – I wish I had more time for reading and studying my bible. But honestly – I've waited YEARS to be a mother and being able to give Marlee the majority of my attention – that's just a blessing! And I have no regrets with her getting the bulk of my time and attention

What are 3 highlights (business or personal) of your year?
• Becoming a mother to the most amazing little girl honestly blows everything else out of the water!
• Officially starting my support group for those struggling to grow their families
• Discovering that when you are on the path God intended – things seem to fall into place

LOOK FORWARD
What "word" do you want to define 2018?
My word for 2017 was AWARENESS. And I feel l ike I achieved this in so many ways – greater awareness of the struggles of others; awareness in my work; awareness in my personal life with my health and time spent with family. I feel like this word could apply to every year as it is always important to strive for awareness of ourselves and others. But for 2018 I want my word to be OPENNESS… Last year really taught me to be open to possibilities…. even when they're scary or painful. Being open gives me the opportunity to lean fully on God and rely on him. Openness allows me to see the world from other people's perspective – having open eyes to the realities of others, especially when their life or culture is different from my own. Being open means that I'm willing to accept opportunities that I might otherwise not partake in, whether that's in my personal life or with work. And it also means being willing to be open and vulnerable again. There was a period of time last year where it was just too hard to be vulnerable.  I needed a break from the judgements of others. And while we were in the wait of the finalization of Marlee's adoption – I had to keep what I posted minimal – attorney's orders. But I think it's time for me to open up again… to find that uncomfortable space of vulnerability once more. So I'm going to try to move back into that realm once again in 2018.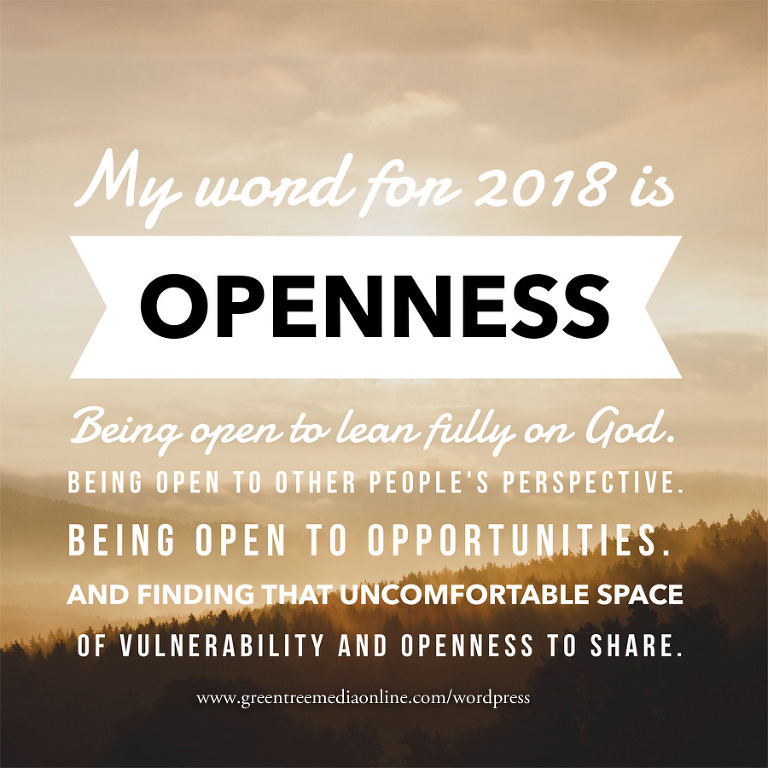 What are 3 big goals (business or personal) for 2018?
(It feels surreal to not have grow our family as a goal on this list… Since I began doing this review years ago – it has consistently been on my list and was quite discouraging. Just goes to show anything can happen)
• Continue to work on my personal projects – I still have some sketches and ideas for my fine art series. For both my self portrait series – The Journey – and my Your Story project. Plus I have the book I started that writing that I want to finish too. So continuing to create within my personal projects would awesome!

• Put together an art exhibit – Speaking of my fine art series I definitely have enough pieces that I really don't have any good excuse to not put together a show. So I'm working on figuring out the specifics for printing and framing them and I'm going to try to make that a reality this year! It's mainly the expense of getting them all printed and framed and trying to decide which ones that's slowing me down.

• Set a new fitness/health goal and achieve it – Last year I wanted to run a half marathon and I got darn near close to running a full one. Once Marlee arrived, running got put on the back burner and I shifted to my BeachBody on Demand workouts, which I love. So I need to decide what my fitness goal will be this year. I'm thinking either get back into running again or completing a certain number of workout programs. I'm also planning on spending the month of January sticking to a PCOS-specific diet. I've never really done this before and I'm curious to see if I notice any changes. I'll be sure to let you all know how that goes

What do you want to stop doing in 2018?
Last year my goal was to stop waiting… and honestly we definitely hit that point where we were trying to shift our focus away from children and redirect to wherever God was calling us. This year I want to stop holding myself back. I think we're all good at making excuses – I know I am. I'll make excuses for why I can't do something like cut back on sugar. Or I'll convince myself that I'm not good enough at something. But I've seen that often isn't the case – I never imagined I'd be able to run a half marathon – but I did. I never thought I could lose 70 pounds – but I did. I never thought that I could have strong, defined arms – but I do. So in 2018 – no more limiting myself.

What things excite you about the upcoming year?
There are so many things that looking forward to with 2018. I'm looking forward to continuing to watch my daughter grow. I'm looking forward to what the future holds for my business and my personal projects. And I'm really excited to see how our support group continues to grow too! We have a wonderful community of ladies already and I'm so thrilled to see them loving and praying for one another.

What do you want to learn in 2018?
In 2018 I want to get back to a greater relationship with God again. I feel like the amount of work and things I have going on has cut back on the time I actually spend solely with him. So I'd like to work on that more. However, I do know that this last year I feel like I'm really moving into the realm he has called me to, which is wonderful. I'd also love to learn how to balance my diet a little better… rely less on sugar. I want to have a healthy relationship with my body and food so that Marlee can see what that looks like first hand. She already absorbs so much by watching and listening to us. So I want to be a good role model to her in this area as well.

Well that was extra challenging this year! But I had a blast going through all those questions and answering them. I hope it was fun for those of you who read through to the end! I hope you all have a super fun and safe New Years! Let's ring in 2018 with big plans, a lot of hope, and a bright future!