It feels surreal to be celebrating Christmas with a little one this year. For nearly a decade I yearned for the days of celebrating Christmas with a little one – of sharing traditions and seeing the joy and wonder of a child's face on Christmas morning. Granted – Marlee is still quite little and not really ready to full engage in all the Christmas festivities. But it has still felt like a dream getting to do that this year.
A lot of our Christmas fun gets put on hold until I finish work. Christmas is really my holiday – I love the decorations and the baking and the music and movies and all of that. So once I got over the hump of work – I was able to finally "get into the spirit"! We put up our decorations, including some very special ornaments we received this year and one last. Last year, my dear friend Katrina gave us this beautiful bunny ornament, which was so special since bunnies were our symbol for hope. It has even more significance now with our little Easter baby. We also received ornaments specifically for Marlee from our friends, Jessa & Amber and Craig, at our Meet Marlee party. It was so wonderful to be able to hang them on the tree!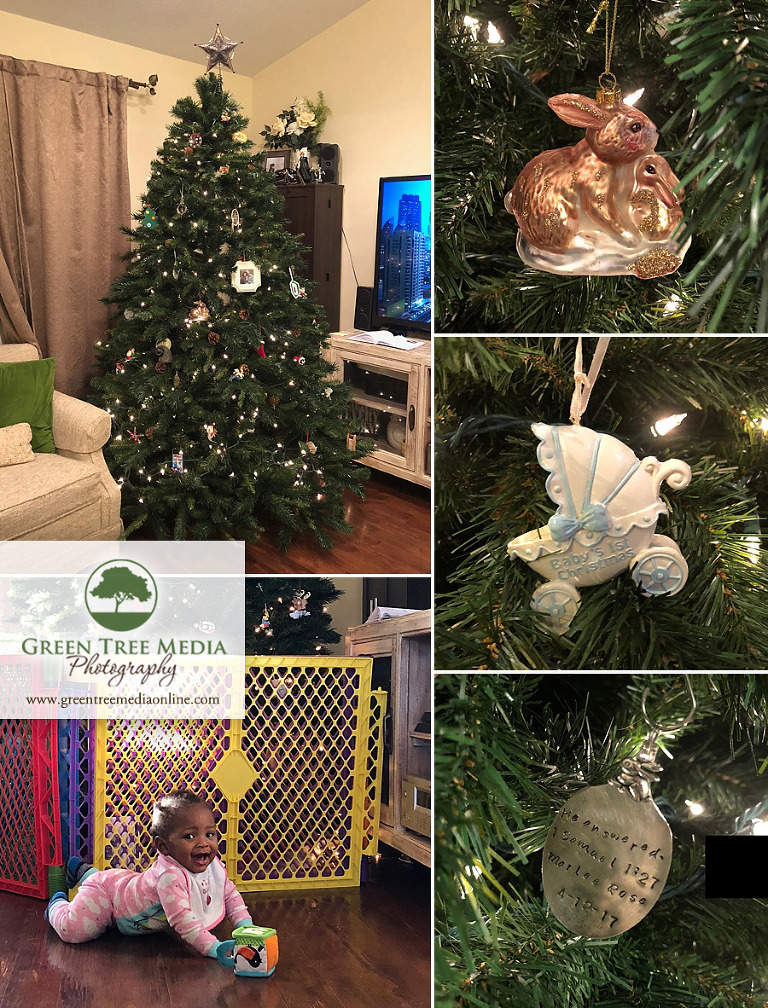 Well after setting up our decorations I realized, we could use a few more little things to fill things out our Christmas spots… the spots I put Christmas decor. I did a little shopping and didn't really see anything that jumped out at me – so I decided this was the perfect opportunity to make something! I had some extra canvases and got to work. The first thing I painted was of the holy family. I figure it's so easy to get into Santa and snowmen and reindeer, but Jesus is what the holiday is really about – so this seemed like the perfect subject! The second painting I had Marlee help me with. I wanted to paint the quote "Glory to the Newborn King" onto it. But for the background I wanted to incorporate Marlee's handprints and footprints. One of the sad truths of her adoption is that we don't have any newborn handprint or footprints. Her birth certificate is from after finalization and doesn't include these things. And I never thought about that when she was tiny. So I thought this would be a fun way to commemorate those tiny hands and feet. And I am SUPER happy with how both turned out!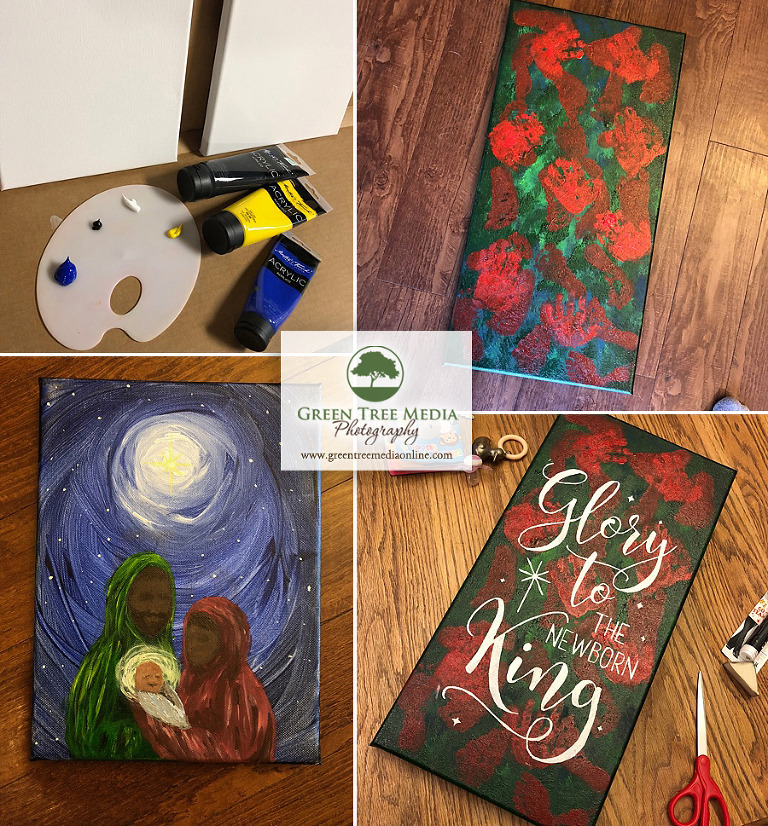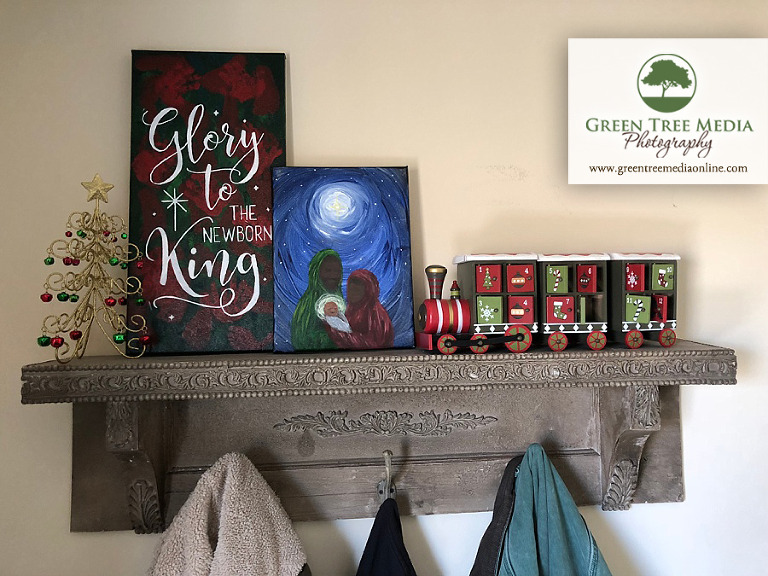 As per usual – I had the bulk of our Christmas shopping done before Thanksgiving so it was just the little things that I had to pull together. And of course wrapping. With less free time this year I didn't get to have as much fun with the wrapping as usual. I often do something fun and creative with my wrapping like hand lettering or drawings of some kind. But I just kept it simple instead.
I didn't even think about it until I started seeing some of our other friends and family member's posting pictures – but Santa. Umm – yeah we probably should take her to see Santa. I've waffled for a long time (pre-baby) about what I want to do with Santa. And honestly I'm still not sure. I love the idea of giving kids the joy and wonder of the magical man who leaves them gifts. But I want the meaning of the season – the birth of Jesus – to be much more significant. So I just haven't decided which way we're going to go with that. So for this year – we took her to meet him and get her picture taken. We didn't get any big smiles, but she wasn't scared and didn't cry. She mostly just liked leaning back onto his soft fuzzy jacket and pulling his beard (which Santa informed us he shampoos with rogaine each night so that babies can pull to their heart's content!).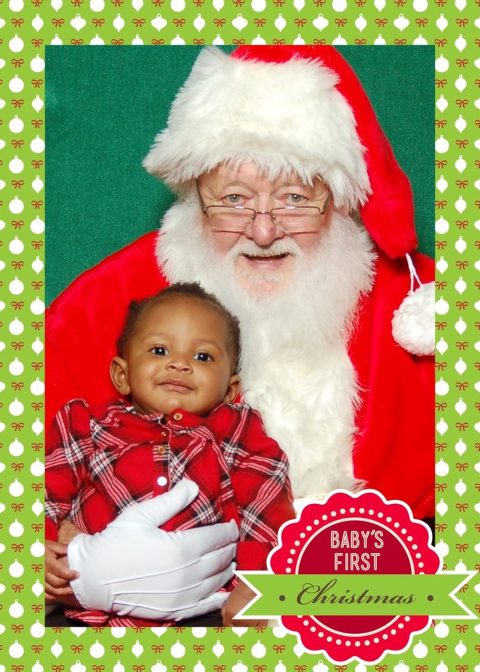 Another fun thing we did for Marlee though was create an ornament. Growing up in my family – we made ornaments every year to give to family. So this was something fun to do as a tradition for my family too. Of course, Marlee is a bit small to participate so we made soemthing that's significant to her instead. I found this idea on Pinterest. It's an ornament made of pieces of a map of Michigan with Santa's sleigh over Detroit – since that's where she was born. I thought this would be a special gift for us, her grandparents, and for Marlee when she's older.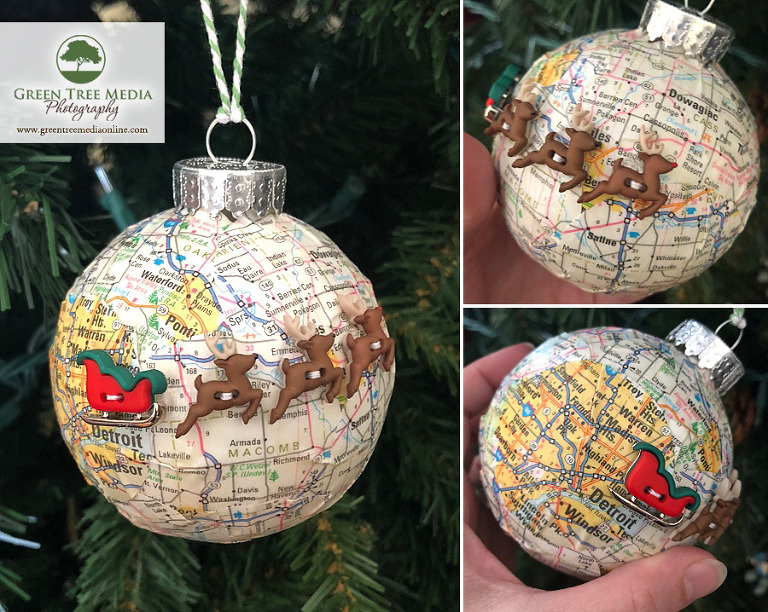 Of course we baked our Pizzelle's like we do every year and watched our Christmas movies: White Christmas, Elf, the old claymation classics, Home Alone, Die Hard. Naturally Marlee was too little to really appreciate this but it was fun to continue that too. And we got to get Marlee some Christmas gifts. We tried to keep it simple this year because she doesn't NEED a ton and we knew the grandparents would have fun getting her something. We got to celebrate our first Christmas morning at home and let her open her presents by the tree. We got her a couple books, a toy phone, and a couple My Little Pony plush toys.
Then we took our time getting ready to head to Ryan's parents' house. We had a late brunch there and got to open more gifts. Marlee got some really fun toys – a Pelican toy that "swallows" toys, a spinning toy, a teething toy, some really awesome books, and a couple new outfits. We were blessed with some pretty cool gifts too: some fun socks, cozy sweatpants, and a fun bunny pillow. We went from Ryan's parents' house to his grandma's. We visited with family here for a bit before we had to head to my parents'. I wanted to be sure we got there before my grandma had to head home and I'm glad we did. Marlee really loves her great grandma Rose and she snuggled, played, and fell asleep in her arms.
For the past few years now my family has officially celebrated Christmas the week after – over New Years Eve and New Years Day. My Grandma always schedules her Christmas for New Years Day and then my brother and sis-in-law who live out of town can just a make a weekend of it and my mom days hers the day before. So we just finished up Christmas this past weekend. It was so nice having my family all together with all of my brothers and their families! We had a nice meal and enjoyed time together and opened gifts. Marlee was so excited about everything that she skipped all her naps and fell asleep right in Ryan's arms at the kitchen table with her head resting on the table. Needless to say – she was pooped!
The next day we got up, relaxed for a bit and then headed to my Grandma's house for her Christmas party. At this point in time, my grandma has 14 great grandkids. So there is always a lot of activity and motion in her home. Marlee enjoyed watching everyone run around, but she definitely was still tuckered out. So she needed a lot of snuggling and I ended up sitting at the opposite end of the basement for a bit just to get her away from all the action, which definitely helped. It was another great day and we headed home before the sun went down.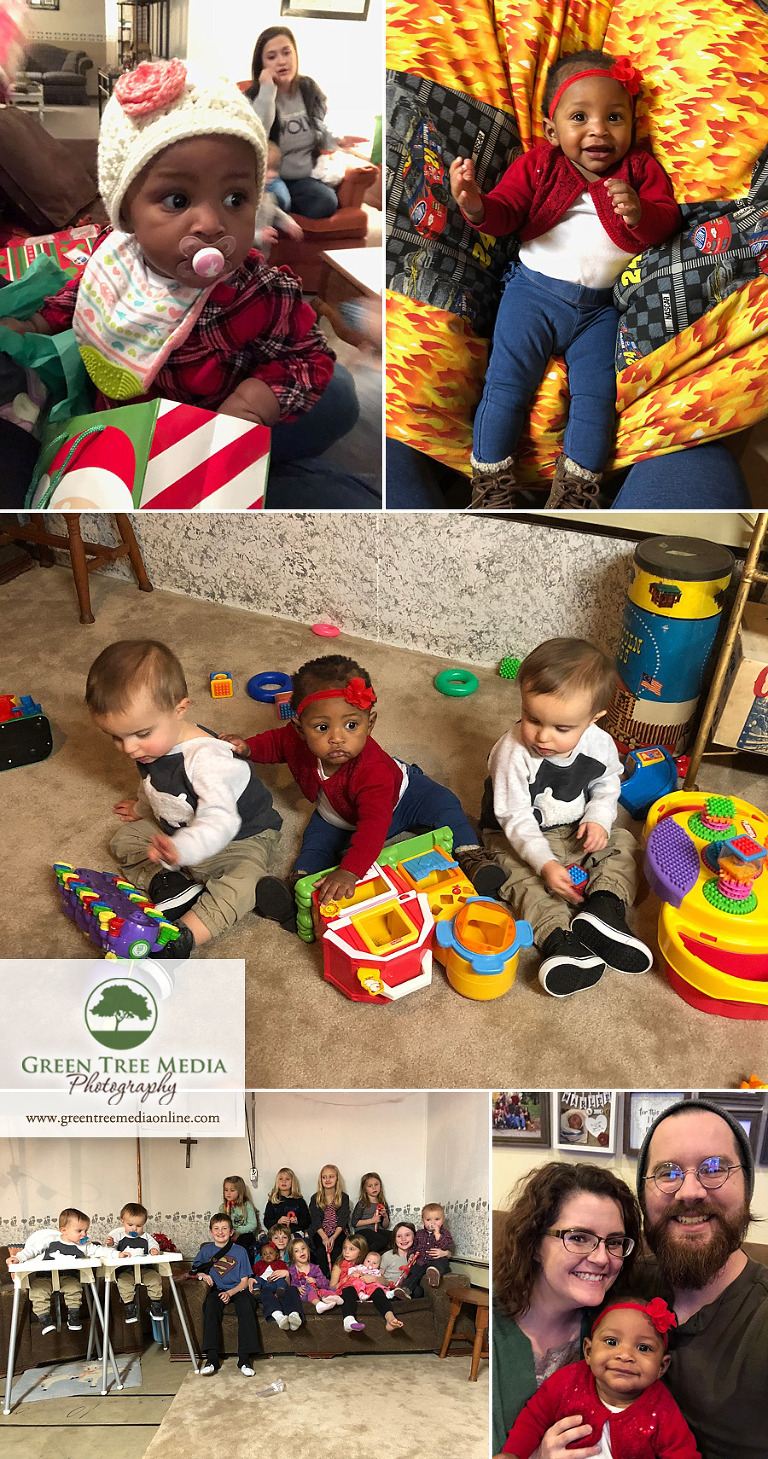 All in all I'd say it was a wonderful first Christmas as a family of three. It's a privilege and joy that certainly is not lost on me. This time last year – we had no idea how different our lives would look in a years time. We are always and forever grateful to God and Marlee's first mama for giving us the honor of being her parents and getting to celebrate this family-oriented holiday with her!